The White House is defending its decision to impose travel restrictions related to COVID-19 after several threats from China's communist regime.
The Biden administration said there was no reason to retaliate against Beijing after its Communist leadership criticized Washington's decision to require travelers from China to the United States to test negative for COVID.
White House press secretary Karin Jean-Pierre said at a Jan. 3 press conference that "countries around the world are taking precautionary health measures to protect their citizens, so there is no reason to retaliate here."
"That's what you see from us and from others."
The Chinese Communist Party (CCP), which rules China under a one-party system, has announced that it will open its borders on January 8. The move comes just a month after the regime abruptly ended its "zero-covid-19" policy in response to widespread protests. Chaos is causing the spread of COVID-19 throughout China.
The move caused a global uproar, with countries around the world rushing to impose testing requirements on all arrivals from China.
The Centers for Disease Control and Prevention (CDC) issued a press release on December 28 saying that passengers will be required to present evidence of a negative COVID test or recovery before boarding a flight from China to the United States. The CDC said the move was "intended to slow the spread of COVID-19 in the United States at a time of surge in cases of COVID-19 in China." [People's Republic of China] Due to the lack of sufficient and transparent epidemiological and viral genome sequence data reported by China."
The United States joins the United Kingdom, Australia, Canada, France, India, Italy, Japan, South Korea, Spain, Malaysia, Qatar and other countries seeking tougher restrictions on arrivals from China.
A CCP spokesman said the testing requirements were "unacceptable" and the regime vowed to "take countermeasures" against countries that impose travel restrictions on flights originating in China.
The world is preparing for China's COVID surge

The White House defended the decision to test all travelers from China based on international consensus that COVID-19 is currently ravaging the Chinese population.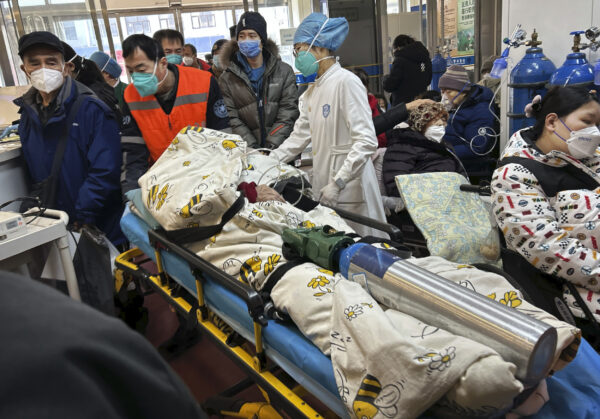 "Again, there is no need for retaliation," Jean-Pierre said. "This is what we all do to make sure that other countries are protecting our citizens.
"This decision is based on public health and science. Our experts provide it here. Other countries such as Japan, South Korea, the UK, France, India, Italy and Malaysia are also taking mass action," he added.
After nearly three years of quarantine, the CCP has attempted to cover up the extent of the COVID-19 outbreak in China and the resulting death toll among the Chinese population, which has no natural immunity.
Leaked images from December's CCP conference documents show party officials believe 248 million Chinese were infected in the first 20 days of December. The regime publicly announced that only 10 people had died from the disease during the month.
A December report by U.K.-based health information firm Airfinity estimated that about 9,000 people are dying from COVID-19 every day in China, and that number could rise to 25,000 a day by the end of January.
The total death toll in China since December 1 has reached 161,000, the report said.
Virologist and WHO committee member Marion Koopmans told the press ahead of a January 3 meeting between Chinese scientists and the WHO that the Chinese authorities' data on Covid hospitalizations was not credible, and the regime called for strictness. Fairer for the Chinese people.
The White House appears to agree with this assessment, and Jean-Pierre reiterated WHO's demand that the CCP release factual information about the COVID-19 situation in China.
"The World Health Organization is calling on China to release more information, which is important to identify any potential scenarios."