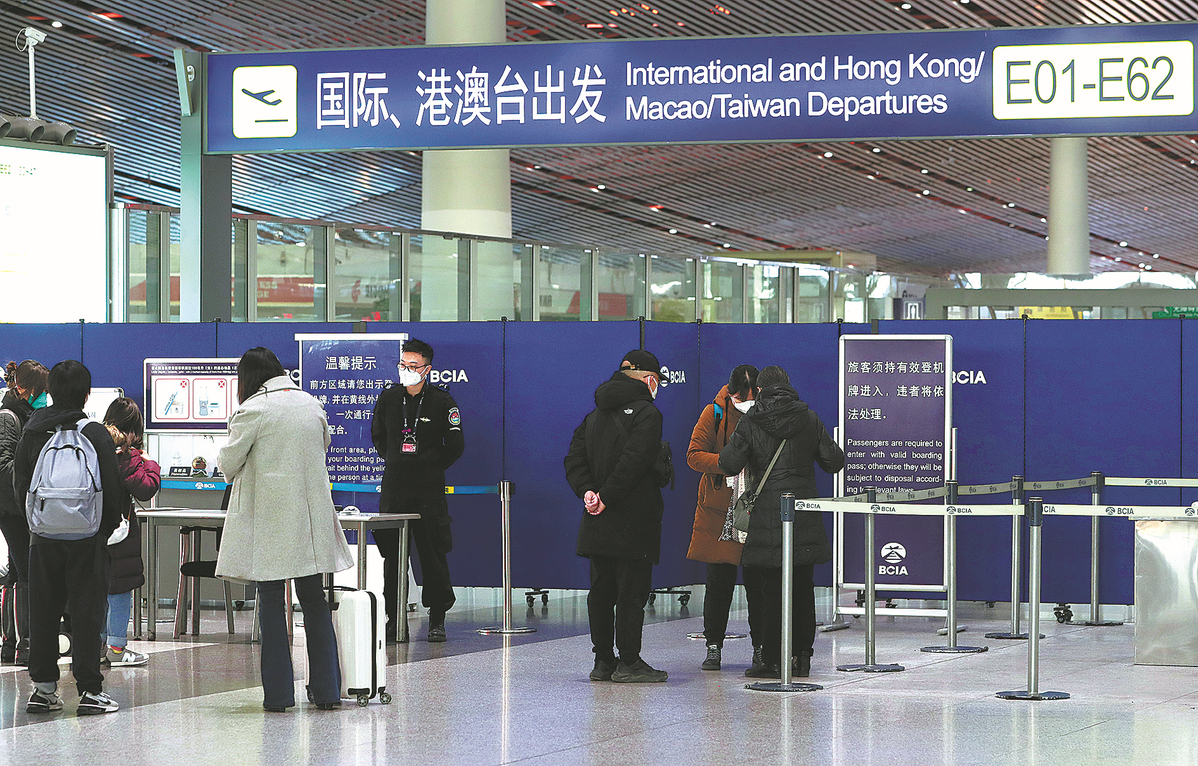 Chinese tourists showed renewed willingness to travel abroad on Sunday after the government eased COVID-19 restrictions on international travel. Experts believe that Singapore and Thailand will become hot spots for overseas tourists, and the return of Chinese tourists will bring new energy to the global tourism market.
From Sunday, quarantine-free cross-border travel resumed in China after nearly three years of restrictions.
The number of international flights booked on Sunday rose 628 percent year-on-year to the highest level since March 2020, with outbound and inbound bookings accounting for half of the total, according to Tongcheng Travel. , an online travel agency based in Suzhou.
Between Sunday and the Spring Festival, which falls on January 22 this year, many overseas Chinese have requested to visit their family members, a trend that has boosted sales of inbound air tickets.
The Hong Kong Special Administrative Region and mainland China began allowing unrestricted cross-border travel, with Hong Kong becoming the busiest city for inbound travelers on Sunday. The main destinations are Shanghai; Guangzhou, Guangdong Province; and Chengdu, Sichuan Province, reports Tongcheng Travel.
China's tourism market will recover significantly this year, according to the China Tourism Academy. Singapore, Kuala Lumpur, Thailand's Chiang Mai, Koh Samui and Italy's Milan have already been looked at when booking hotels abroad. Hotel bookings by Chinese travelers have increased significantly, Trip.com Group said.
Since China eased its COVID-19 restrictions on international travel, many tourism bureaus in various countries have expressed their welcome to Chinese tourists. About 5 million Chinese tourists are expected to visit Thailand this year, and 274,000 Chinese tourists are expected to arrive in 2022, according to the Tourism Authority of Thailand.
According to Trip.com, 44 percent of Chinese tourists who booked overseas hotel stays for more than 20 days since December 27 accounted for 44 percent of all tourists, making long-term vacations the choice of many tourists to Thailand.
The Abu Dhabi Tourism Bureau has been actively preparing for the re-opening of the Chinese market for the past two years and is looking forward to welcoming Chinese tourists to the Middle East.
"China has always been a key market for Abu Dhabi. In 2023, we will focus on key segments such as couples and families interested in culture, luxury, new experiences and family fun. We will also increase awareness of the Chinese audience." said Abdullah Yusuf Mohammad, Director of Tourism Trade and Market Development, Abu Dhabi Department of Culture and Tourism.
South Africa's tourism industry says the country is eagerly awaiting the return of Chinese tourists. China has been a major source of tourist arrivals to South Africa and has huge potential for growth.
In December, Air China launched flights between Beijing, Johannesburg and Chengdu in Sichuan Province, the first direct flight between South Africa and southwest China.
"The return of Chinese tourists is expected globally, which is expected to boost the Asian tourism market in particular. Chinese travelers are likely to regain confidence in tourism and spending," said senior researcher Shen Jiani. Trip.com Research Institute.