The Handley Page Victor B.1A XH648 with a wingspan of 33.5m is the only surviving aircraft of its type and can now be seen at the Imperial War Museum (IWM) Duxford in Cambridgeshire.
The jet-powered strategic bomber responsible for transporting a nuclear bomb as a deterrent during the Cold War in the '60s and '70s has undergone a meticulous, comprehensive five-year restoration project.
The Cold War is the term for the period of political and military tension between the United States and the Soviet Union. It's known as the Cold War because both countries had nuclear weapons, but neither country ever attacked each other directly.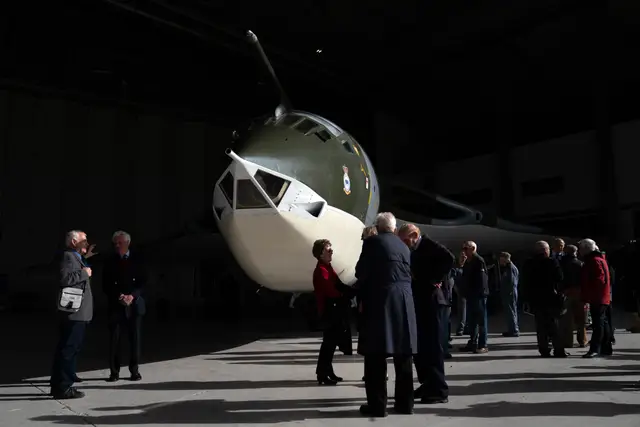 The IWM acquired the aircraft in 1976 when it was decommissioned, and the museum's restoration and conservation project is the largest ever undertaken. The project has been supported by a fundraising campaign which has raised over £25,000 in donations from individuals.
Specialist conservators, machinists, and volunteers carried out the restoration process, and some of the detail work included paint stripping, corrosion treatments, and other parts of the aircraft that were removed or new parts made.
Originally built as a B1 model, the Victor served as part of the Far East Air Force during the confrontation with Indonesia in 1962-63. After returning from Indonesia, the Victor was converted into a two-point tanker by Handley Page in 1965 and spent 10 years with No.55 Squadron at RAF Marham before IWM Duxford acquired her in 1976 after her retirement from service. The aircraft has its markings from its service with No. 55 Squadron repainted.
Sqn Ldr Garden "Gary" West, 83, who flew the aircraft during its time with the RAF as a bomber and as a tanker, said: "I am absolutely thrilled to see it again. It's the only one left. It means a lot to us. We could carry thirty-five 1,000 pound bombs, which was a lot more than the other V-Bombers. We had nuclear weapons during the Cold War and that's what we were here for. It wasn't that much fun but later on when it became tanking it was fun and we could also do victor to victor air tanking which was pretty fun."
"One and only"
IWM Duxford's head of conservation, Jon White, said the restored Handley Page Victor XH648 was "the only one of its kind left".
"Only six copies of this specimen were made and this is the last one left in existence," he said.
"That's why the museum has been working on it for a long time. It is a unique aircraft and shows an exciting part of British aviation history."
"It was one of three aircraft designed to be Britain's first nuclear bombers.
"It's kind of an iconic plane because of its shape; it was so futuristic, and even now it looks futuristic for an airplane." He added.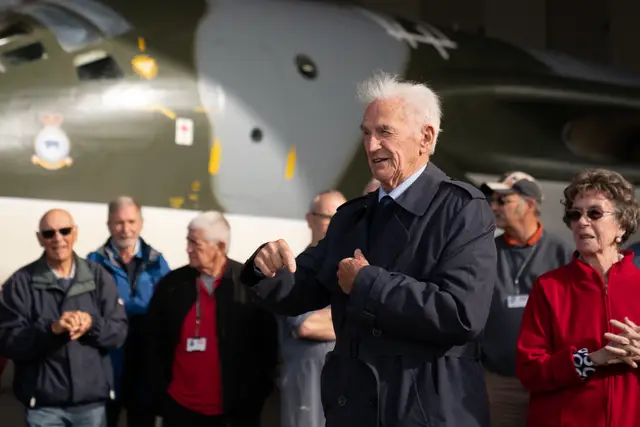 Former group captain Alistair Sutherland recalled serving as navigator on the aircraft.
The 89-year-old said there were two navigators and an electronics officer at the back of the plane, and a pilot and co-pilot at the front.
"It was very tight but you were all quite busy so it worked out pretty well and we were all friends and especially when you went abroad we had some good nights abroad," he said.
The IWM has set itself the goal of preserving historical objects as reference pieces for future generations. This means that some of the original equipment is missing from the aircraft and cannot be replaced. Jon White added that the RAF have a policy of restoring spares, which means they will keep anything that can be used for something else. He concluded by saying: "This is one of those things about preserving something so big – we will never finish this because there will always be another part that we need to find or do, so it's an ongoing, ongoing process ."
Following the earlier retirement of the Valiants in 1965 and the Vulcans in 1984, the Victor was the last of the V-Bombers to be retired from service on October 15, 1993, due to its technological sophistication and superior capabilities.
Will you be visiting Victor at his new home in Duxford? Let us know!