The Minister of State for Foreign Affairs of the Republic of Uganda, John Mulimba, has urged Turkish investors and businessmen to invest and do business in Uganda.
Mulimba made the call at the official celebrations organized by the Ugandan Embassy in Turkey to commemorate Uganda's 60th independence celebrations.
Mulimba noted that the Ugandan government has started agricultural modernization and industrialization and therefore "Uganda would want to work with Türkiye in the field of agriculture to benefit from Türkiye's experience and expertise. We also invite Turkish companies to invest and do business in Uganda."
He pointed out that the recent Uganda-Turkiye Investment, Trade, Industry and Tourism Summit, held in Kampala on May 12-13, 2022, culminating in the establishment of the Uganda Türkiye Industrial Park and Trade Center, was a clear one Sign of Uganda's commitment is government wants to attract Turkish investors.
The center aims to promote opportunities in four priority sectors; namely agriculture, manufacturing, ICT and services.
"I have no doubt that relations between the two sister countries will continue to grow," he said.
The theme of this year's 60th Independence Anniversary is "A Declaration of African Interdependence and Our Common Destiny".
In this regard, Mulimba noted that Uganda and Africa on the whole are aware of the valuable relationship and partnership with Türkiye, both bilaterally and continentally.
He said this has continued to grow since resident missions opened in each other's capitals in 2010 and 2011.
Relations between the two countries are governed by cooperation frameworks in trade and tourism, military and defence, security, energy, education and parliamentary democracy.
The visit of the President of the Republic of Türkiye, HE Recep Tayyip Erdogan, to Uganda in 2016 and other high-level visits between the two countries have given a boost to the existing lively bilateral ties.
Both the Ugandan embassy in Ankara and the Turkish embassy in Kampala have facilitated trade and investment between the two countries and as a result bilateral trade volume has increased from US$32 million in 2017 to US$71 million in 2021.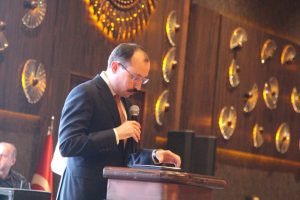 As the main guest, Dr. Mehmet MUS, Minister of Commerce of the Republic of Türkiye said that the crucial steps Uganda has taken since independence have laid the solid foundation for stability, economic and social development that it is proud to be enjoying as a prominent country in its region right now.
"I am pleased to mention that Uganda-Turkiye relations have developed and deepened in all areas based on sincere friendship. Our President's historic visit to Uganda in 2016 marked an important milestone in our relationship, laying out an ambitious roadmap and defining new economic and commercial goals," he said.
He added: "In this sense, the Uganda-Turkey Trade and Investment Summit in Kampala in May was a strong endorsement of the willingness on both sides to build ties."
He revealed that Turkey has an African partnership strategy based on a "win-win" principle, saying that this has led to great achievements over the past two decades.
Turkey's trade volume with Africa, which was $5.4 billion in 2003, increased to $34.5 billion in 2021.
In 2021, trade between Türkiye and Uganda reached the level of $72 million. In 2022, bilateral trade will continue to grow steadily.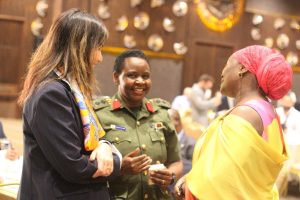 In terms of investment, he noted that Turkish companies are already present in the Ugandan market and he would like them to actively contribute to Uganda's development priorities, particularly in the agriculture, manufacturing, mining and energy and transport sectors.
"We believe that by intensifying their cooperation, Türkiye and Uganda can promote economic and trade ties and create prosperity not only for their people but also for the entire continent," said Dr. Mehmed MUS.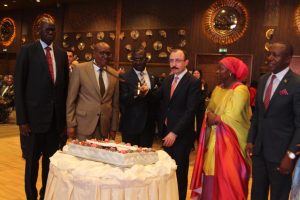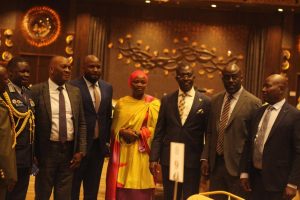 Post Views:
10