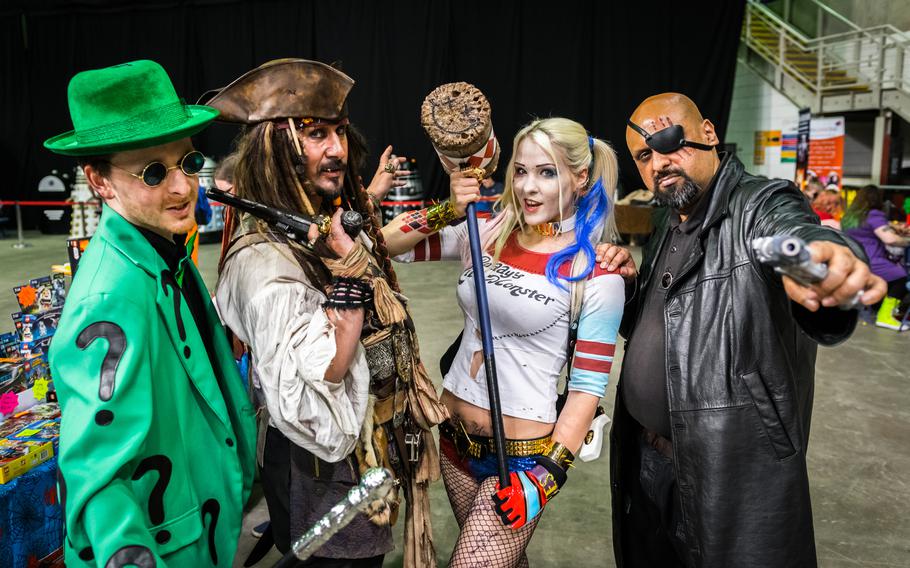 Many festivals and events across Europe have an almost folksy charm, often alluding to defining moments centuries ago. Worlds removed from these bastions of tradition, events firmly grounded in the present remind us of the global reach of popular culture. Many opportunities to meet with the latest film and video stars, writers, artists, producers and other figures of the moment are available if you know where to look.
Comic conventions and cosplay
On September 24th and 25th, fans of comics, games, films, TV series, cosplay, board games and other pop culture phenomena will be drawn to two festivals taking place under the same roof in Brussels, Belgium. Heroes Comic Con is dedicated to American and European pop culture, while Made in Asia pays homage to the phenomenon's Asian counterpart.
Heroes Comic Con offers the opportunity to shop for themed merchandise, play games, attend Q&A sessions, meet the writers and artists behind the comics, and get a look at the big screen idols of some of today's most popular series. For an additional fee, it is also possible to arrange photo ops with the stars in attendance. Actors scheduled for this year include Caleb McLaughlin, Alyssa Milano, Matt Smith, Emily Swallow, Dan Fogler, Sarah Rafferty and Andy Serkis.
Cosplay activities include on-stage competitions for groups and individuals, and everyone has the opportunity to show off on the catwalk. Made in Asia offerings include a Korean village with K-pop, cooking demonstrations, tattoos, an origami workshop, and introductions to games like mahjong and go.
The congress will take place at the Brussels Expo on the Place de Belgique. Various ticket options are available. The cost of a day ticket starts at 18.50 euros for a Sunday visit in advance online. Tickets at the box office will also be available, but expect them to cost considerably more. Online: heroescomiccon.be
Can't make it to Brussels? Other Comic-Con events this fall include Vienna Comic Con (Vienna, Austria, Oct. 1-2); Zurich Pop Con and Game Show (Zurich, Switzerland, Oct. 1-2); Comic Con Scotland (Edinburgh, Scotland, October 8-9); Birmingham Anime & Gaming Con (Birmingham, England, October 22-23); MCM Comic Con Birmingham (Birmingham, England, Nov 12-13) and Dutch Comic Con (Utrecht, The Netherlands, Nov 19-20). Upcoming Comic Cons in Germany include the German Vikings Con (Düsseldorf-Neuss, Nov. 5); Comic Con Stuttgart (Stuttgart, Nov. 26-27) and German Comic Con Winter Edition (Dortmund, Dec. 3-4).
To play
EGX London is an important trade show for the gaming industry and the meeting place for lovers of all kinds of video games. In addition to trying out the latest titles, visitors can take part in panel discussions, enjoy cosplay shows, play on old machines in a retro area and Experience augmented reality sports. Professional advice is available here for anyone looking for a career in the industry.
The EGX will take place at ExCeL London until September 25th. Various ticket options are available, including a one-day ticket priced at £26. Online: egx.net
Gamers based in Italy might want to head to Milan Games Week & Cartoomics, Italy's largest fair for games, e-sports and pop culture in all its forms, from comics, fantasy fiction, role-playing and board games to cinema, entertainment and cosplay. The event will take place from November 25th to 27th at Fiera Milano Rho. Online: milangamesweek.it
film festivals
The Raindance Film Festival, Britain's largest independent film festival, offers cinema fans the chance to be among the first to see what might be the next cult classic. Pulp Fiction, What's Eating Gilbert Grape, and The Blair Witch Project are just a few of the American films that have premiered here over the years.
The 30th edition of the festival will take place from October 26th to November. 5 in cinemas in London's famous West End entertainment district. The program includes not only full-length feature films, but also short films, web series, music videos and other genres. Tickets are or will be available at the box offices of the following cinemas: Curzon Mayfair, Curzon Hoxton, Curzon Soho, Genesis Cinema, Regent Street Cinema and Bertha DocHouse. Online: www.raindance.org
Fans of the horror genre won't miss out this fall either. For shivers down your spine, visit the Sitges International Fantastic Film Festival of Catalonia in (Sitges, Spain, 6-16 Oct); Horror & Fantasy Film Festival (San Sebastian, Spain, 28 Oct-4 Nov) or Abertoir, The International Horror Festival of Wales (Aberystwyth, Wales, 15-20 Nov and 25-27 Nov ).
book fairs
The Frankfurt Book Fair or Frankfurt Book Fair is considered to be the largest book fair in the world. This important meeting place for authors, content creators and publishers opens its doors to the public for the last three days of its run.
From October 21-23, visitors can read thousands of titles, including many books in English, along with a wealth of educational materials in print or digital. Each edition features a country as Guest of Honour; Spain is welcomed this year. Note that book sales are only permitted on the last Sunday of the event. Single-day tickets for adults cost 25 euros when purchased online in advance. Online: buchmesse.de