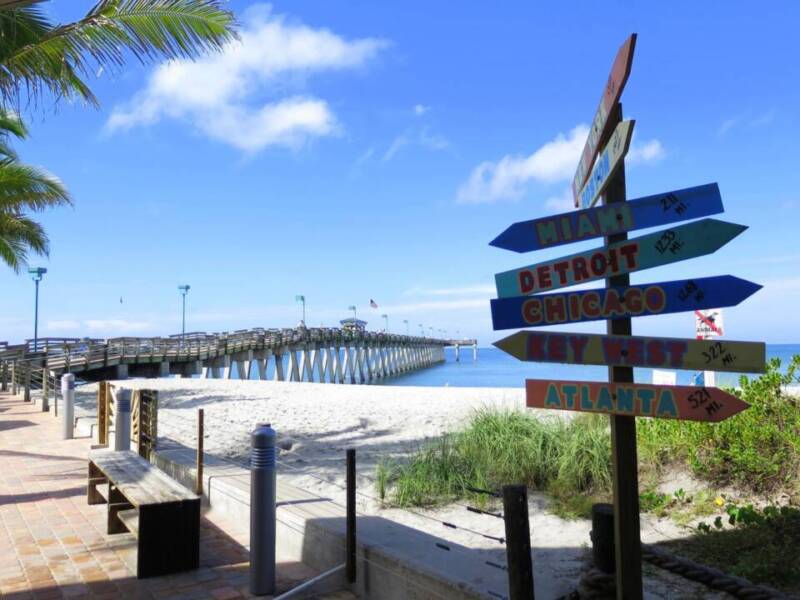 The great Florida road trip
September 23, 2022 ctn_admin
Florida has 26 officially designated Florida Scenic Highways that are scenic but also highlight Florida's history, culture, archaeology, natural resources and archaeology.
From coast to coast, here are some must-see attractions across the state
JACKSONVILLE: Whether you're heading north or south through Florida's Great Peninsula, make sure Jacksonville is on your to-see list for its plethora of road stops and attractions. Since many of these attractions are located just off Jacksonville's major freeways, it's easy to plan these unique stops for your next road trip. Memorial Park is a five-acre open space perfect for a stop to stretch your legs. Known as "one of Jacksonville's best-loved treasures," Memorial Park is loved by members of the community. With an ideal location less than 10 minutes from Interstate 95 and several restaurants within walking distance, there is no place in Florida like Memorial Park.
Some of nature's greatest predators reside at Jacksonville's Catty Shack Ranch Wildlife Sanctuary, located on the north side and 10 minutes off Highway I-95. At the sanctuary, visitors can observe and learn about endangered big cat species such as tigers, lions, cougars and leopards. This non-profit organization prides itself on providing a safe and loving environment for animals after they have been rescued from serious and potentially dangerous situations.
TALLAHASSEE: The Bradfordville Blues Club is Florida's premier listed location on the Mississippi Blues Trail. The experience is second to none, combining a truly unique location and atmosphere with the best the blues has to offer. The club is a historic one-room cinder block "juke joint" showcasing an impressive roster of nationally known blues acts. The BBC presents a different artist every Friday and Saturday night while Miss Ernestine roasts catfish around the campfire for music lovers.
Bradley's Country Store is a family owned shop not to be missed. Listed on the National Register of Historic Places, the shop has been on the same site since 1927 and is famous for its homemade sausage and local grits, both of which are still made on site.
Opened in 1993, Lofty Pursuits is another favorite. Originally a small craft toy shop that has grown into an eclectic mix of toy shop and games, it meets soda fountains and homemade ice cream and a candy shop where the sweets are skillfully made using Victorian machinery. Browse the collection of curios on the shelves, enjoy brunch and watch the festive action of Victorian confectionery.
SEBRING: You may know Sebring, Florida for its half-day race every March, but during the summer months the area may be the perfect pit stop. Just 60 miles south of Orlando, the towns of Sebring, Avon Park and Lake Placid offer a variety of activities whether you like things fast or prefer to take it slow. Try not to rush to your final destination during your vacation time – here are some reasons why you should stop in Sebring.
The city's most popular park, Highlands Hammock State Park draws visitors with its beautiful old hammock and millennial oak trees. It is also one of the oldest parks and one of the highest ranked parks for endemic or native biodiversity in Florida. Drive through the park to see birds, alligators, turtles, and deer up close. You might even be lucky enough to spot a black panther or Florida black bear stomping quietly through the forest during your drive.
The city bills itself as the caladium capital of the world, as 98% of the world's caladium bulbs come from the region. The Lake Placid fields harvest and ship crops throughout the United States and outside of the country to South Africa, Turkey, Pakistan and Europe. From June to the end of October you can catch caladia in full bloom and enjoy them in all their glory. You can even take part in the Caladium Festival held every July and see several family farms with 1,500 acres of fields that have been compared to the tulip fields in Holland
ADVENTURE COAST: No trip to Florida's Adventure Coast would be complete without a trip to one of Florida's most famous attractions. Home to the world-famous Weeki Wachee Mermaids, Weeki Wachee Springs State Park has something for all ages. Weeki Wachee is an enchanted spring where you can see live mermaids, take a river cruise, learn about Florida wildlife and swim in the pristine waters of Buccaneer Bay. 2022 is the 75th anniversary of the opening of the famous attraction and 2022 will be the time for the must-see celebrations.
Florida's Adventure Coast's newest attraction is Lead Foot City. Located a short drive north of Tampa, Lead Foot City is the destination for all things driving. Thrilling car enthusiasts with monthly super swaps and car shows, a burnout pad, drift carts and more, Lead Foot City is the place for outdoor special events featuring dealerships, demonstrations, classic cars and top-notch entertainment with an automotive theme
NJoy Spirits Distillery is a family owned Florida spirits distillery located in the heart of Brooksville-Weeki Wachee, Florida's Adventure Coast. Located deep within the Chassahowitzka Wildlife Preserve on an 80-acre farm, they grow their own sugar cane for their award-winning Mermaid Rum and rye grain for their award-winning Wild Buck Whiskey. In addition to making their spirits, Njoy Spirits offers a venue for those looking to get married or celebrate in one of the most beautiful locations on Florida's Adventure Coast.
DAYTONA BEACH: One of America's most prestigious racetracks, Daytona International Speedway hosts legendary year-round events like the DAYTONA 500, the Rolex 24 At DAYTONA, the DAYTONA Supercross, or the Coke Zero Sugar 400 in the summer. The facility also offers daily track tours as well as a 2.5-hour VIP tour. Both tours take guests behind the scenes to discover what makes Daytona International Speedway the "World Center of Racing." "Following the tour, guests will be able to view the winning DAYTONA 500 car and tour the Motorsports Hall of Fame of America, which features spectacular displays honoring all forms of motorsport: stock cars, sports cars, open-wheel, motorcycles, drag racing , landspeed records, power boating and aviation.
If visitors are looking for a high-speed experience at Daytona International Speedway, they can try their hand at the NASCAR Racing Experience on select dates of the year. Guests strap themselves into a stock car for a ride or ride around the track. The Speedway has a cool new neighbor – ONE DAYTONA. With a short walk across the footbridge or a drive down the boulevard, guests can enter a million square feet of world-class shopping, dining and hotel accommodations.
OCALA/MARION COUNTY: Road trips are all about iconic experiences, and what better choice than Florida's premier tourist attraction? Silver Springs State Park, home to many Hollywood movies and offers kayak and canoe rentals. While there, you must also board their world-famous glass-bottom boats, where you can peer out into the clear waters to see fish, turtles, manatees, and more. There are easy hiking trails and lots of fun photo spots throughout the park to remember your day.
Another perfect addition to your Florida road trip is a ride through horse country, as Ocala/Marion County is known as the Horse Capital of the World®. We strongly recommend taking a tour of one of the many local horse farms. Make the long walk to gaze over acres of rolling green hills and enjoy the regal beauty of the horses
Florida Black Bear National Scenic Byway State Road 40 becomes the Florida Black Bear National Scenic Byway once you enter the Ocala National Forest. The drive alone is worth the trip. Just off State Road 40, you can hike breathtaking trails or kayak the famous Juniper Run in the Juniper Springs Recreation Area. Continue down SR 40 and turn north on State Road 19 (still part of the National Scenic Byway) to splash around in Silver Glen Springs, or continue north to Salt Springs. Enjoy hiking, swimming, boating, horseback riding and more at one of the Three Springs Recreation Areas in the Ocala National Forest
EXPERIENCE KISSIMMEE: Anyone embarking on a road trip looking for quirky roadside attractions should include Kissimmee, particularly the Monument of States. One of Kissimmee's most recognizable landmarks, it was created in 1941 by Dr. Charles Bressler-Pettis, a retired physician and president of the Kissimmee All-States Tourist Club, advocated for items from the United States to create a symbol of solidarity.
Donations came in, and donors included many governors, a prime minister, and a US president. Volunteers helped build and paint the memorial, and their efforts resulted in a 50-foot, 100,000-pound structure made of rock, fossils and plaques. Alaska and Hawaii were eventually added to the memorial, plus a final addition years later: some of the remains of Bressler-Pettis inside the memorial. If you're visiting the Monument of States and have some time to explore, consider strolling through historic downtown Kissimmee to shop, dine, admire the local art scene, and enjoy the Florida outdoors.
The Sunshine State offers visitors a choice of unparalleled culinary options. To learn more and plan your next trip, visit www.VISITFLORIDA.com.
Related post:
About the author