On Monday, the war between Ukraine and Russia took a new turn when deadly Iran-supplied "kamikaze" drones hit the streets of Kyiv.
The Shahed 136 may be less sophisticated than the Ukrainian-Turkish-made Bayraktar drones, but they're cheap, can travel great distances, and are hard to spot, giving Russia the power to change the balance in this ongoing war.
But while the Iranian regime is selling military equipment and waging proxy wars is nothing new, but this time Iran's actions set off a chain reaction: the European Union threatened Iran with tougher sanctions and the United States said Iran had passed UN resolutions Security Council violated.
But aside from condemning Iran's actions, the drone strikes have changed the global dynamic of the Ukraine-Russia war and have had real repercussions in the Middle East – Israel in particular.
It is undoubtedly a delicate position.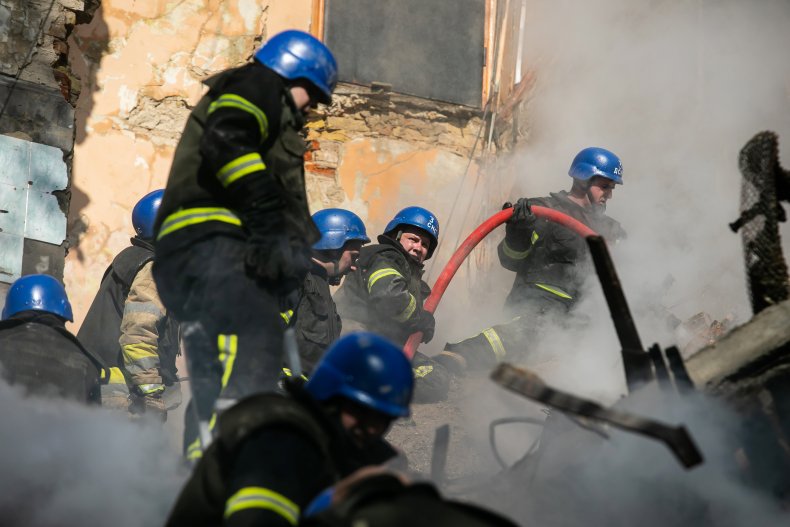 Tehran and Moscow have military bases on Israel's doorstep in Syria, giving them easy access to infiltrate the Jewish state. Although Israel's technological military advances surpass Russia and Iran, this logistical disadvantage has always been an issue.
Striking a delicate balance, Israeli Defense Minister Benny Gantz reiterated Wednesday that Israel could supply Ukraine with missile and drone warning systems to help save civilian lives, but not weapons.
Two days before Gantz's statement, and the same day Iranian drones hit Kyiv, former Russian President Dmitry Medvedev warned Israel about arms shipments.
It is perhaps not surprising, then, that despite US pressure, Israel has so far refused to join other Western nations in imposing sanctions on Russia.
US Undersecretary of State Victoria Nuland went so far as to tell the Israeli media: "We are asking as many countries as possible to join us. And President Biden said it all: "We call on all the world's democracies to join us in enforcing the financial and export control sanctions we have imposed on Putin."
Now that the Tehran-Kremlin axis is being strengthened, it seems likely that Israel may reconsider its stance. After all, sanctions are the key tool in the US-led international strategy to "weaken" and "isolate" Russia. A strategy that is now being adopted by the EU and the US against Iran.
In the case of Iran, it's an approach that has garnered a surge of support outside and even inside Iran, as Iranian dissidents and protesters have advocated tougher sanctions.
Just this week, the National Council of Resistance of Iran, the main political opposition to the Iranian regime, went on record during an interview on Arab News' Frankly Speaking program to "urge (Western nations) to enforce all possible sweeping measures against sanctions." the mullahs, in particular the officers and corps of the (Islamic) Revolutionary Guards", to the closure of Iranian embassies.
But how effective are sanctions alone?
So far, sanctions have done little to stop proxy wars and conflicts between Iran and Russia. There is ample evidence that they instead help a nation achieve greater resilience and self-sufficiency. Part of the reason Israel has so far refused to impose sanctions on Russia may be because the Israeli leadership believes it would do very little. After all, in 2021 trade between Israel and Russia reached $3.5 billion, and of that, Israeli exports to Russia amounted to only $1 billion, while imports from Russia amounted to $2.5 billion.
Instead, a more effective way for Israel to force Russia to reconsider its increasing dependence on Tehran would be if Israel did for Ukraine what Iran did for Russia.
Since the beginning of the war, Ukraine has tried unsuccessfully to buy high-tech Israeli air defense systems.
In particular, Israel's Iron Dome defense system would give Ukraine leverage against Russia, provide Ukraine with strong defenses against Russia's air attack tactics, and potentially change the course of the war.
This would benefit Israel in more ways than one.
Iran recently accelerated its nuclear program, and a close military alliance with Russia — the world's second most powerful nuclear power nation — is deeply troubling to Israelis.
A Russian victory in Ukraine would inevitably strengthen these ties and leave the Kremlin's biggest ally in the Middle East – Iran – in a powerful regional position. Such a deepening alliance would also bring greater alignment in Iranian-Russian policy towards Syria.
But Israel's leverage against Russia – its trump card – is the nation's military technology, developed to deal with mass bombing. The country has the advisory, engineering, and military hardware capable of disarming Russia's most devastating military capabilities.
The coming days will show how Israel reacts. Sanctions alone – on both Iran and Russia – are unlikely to deal a major blow – at least on their own. But Israel, which supports Ukraine by doing what Iran did for Russia, would do it.
After all, whether Israel likes it or not, they have already been drawn into Europe's war. Leaving is just not an option anymore.
Aynur Bashirova is a political scientist and international security expert specializing in alliance studies and Israel's foreign policy, with a focus on geopolitics, energy and security in Europe, the post-Soviet space and the Middle East.
The views expressed in this article are the author's own.