This week Rugby Union lost another of their Premiership greats when Wasps went into administration after racking up £35million in debt since moving to Coventry. It's something we rarely see in the UK and far more often in the United States, but can a sports team move ever actually work? We look at some previous examples to find the answer.
London Wasps to Coventry
In the summer of 2014 Wasps dropped the London part of their name with rumors of a move and by December this had materialized when the club bought half of the Ricoh Arena in Coventry.
It had been a stadium that had never been owned by the local football club and Wasps took full advantage to secure one of the top venues in the country for around £20m. The local council seemed desperate to bring them into the city from a revenue perspective, also at the expense of the Sky Blues.
CONTINUE READING:

Their local London roots and much of their fan base have been left behind as they now battled for dominance in the Midlands with the likes of Leicester Tigers and Northampton Saints. What has happened in the years since has been nothing short of catastrophic, culminating in the administration and loss of 167 people, including players and staff, from their jobs.
Was it a success?
Absolutely not. Crowds of over 20,000 were seen in the early days and the move was heralded as a success by those who made it possible. However, it was built on sand. These numbers were created by free ticket giveaways, and there were huge losses even before the pandemic.
Over the past year, tiny crowds of around 3,000 to 5,000 have shown the true extent of the problem. The people of Coventry, rightly so, didn't accept this new franchise as their own, and the stalwart London hardcore just didn't want to travel every week. It was nothing short of a disaster.
With a proud local rugby team already in existence, Wasps' move to Coventry caused quite a stir
Wimbledon to Milton Keynes
The most controversial move English football has ever seen. In 2003, Wimbledon was moved from south London to the relatively new town of Milton Keynes after sharing grounds with Crystal Palace at Selhurst Park for almost a decade. Financial problems plagued the club and in 1997 owner Sam Hammam sold Plow Lane to convert it into a supermarket. In the same year, Peter Winkelman announced plans for a new development in Milton Keynes with a new state-of-the-art football stadium.
A move to another stadium in South London remained elusive and cities such as Dublin were touted as possible new home bases for the Dons. Eventually the deal with Milton Keynes was finalized and they moved to the 30,000 capacity Stadium:MK. They played there for one season as Wimbledon before changing their name to MK Dons, which has stuck ever since.
Was it a success?

50/50 Two decades later, it certainly wasn't the disaster that London Wasps experienced, but that's largely due to the hard work and dedication of Wimbledon fans. They formed their own Phoenix club, climbed through the ranks and back into the Football League, where they faced MK Dons on a number of occasions.
Importantly, MK Dons relinquished all of Wimbledon's history, trophies and legacy in 2007. They're a completely different club now than the one that started in the capital all those years ago. For the local fans who now attend their games they now have a Milton Keynes team to stand behind whilst AFC Wimbledon have rebuilt Plow Lane which is a huge achievement.
It was a terrible thing for Wimbledon fans, but their journey back to the top means more because of this affliction. Meanwhile, MK Dons haven't become the Premier League side many thought they would, but they are now an established EFL side in their own right.
Welcome to Plow Lane 📍
It always impresses me how media effective this place is 👨🏻‍💻
On to the game…
#AFCW #SuttonUnited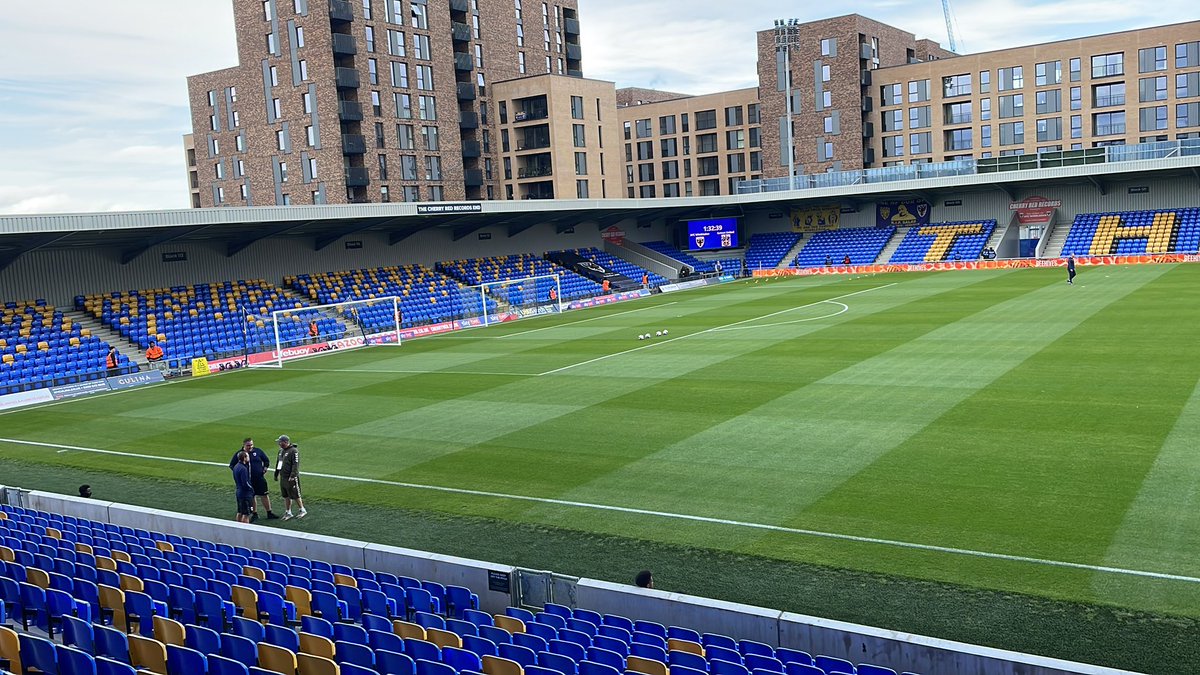 Oakland Raiders to Las Vegas
The Oakland Raiders spent 12 years in Los Angeles in the '80s and '90s, that's the nature of American sports, but they returned in 1995. Relocations are so much more common in the US, there's often no threat of relegation and support seems far less ingrained. It couldn't be further from what we see in the UK, especially when it comes to our football clubs.
Clubs like Wimbledon mean everything to their local community. They ARE the local community in many cases. America doesn't feel that, and when the Raiders relocated to Las Vegas, they became the third NFL franchise to announce a move in the 2010s. There are no 'franchises' in the UK, there are local clubs that simply cannot be relocated. That's perhaps why we saw such a disconnect between fans and American owners when the idea of ​​a European Super League was proposed.
Several years of homelessness led to the Raiders being touted in several cities across the US, including Texas and LA. Eventually, the move was completed in 2017, and by 2020, the $1.9 billion Allegiant Stadium had opened.
Was it a success?
Yes. Even when the move was announced, only a thousand season ticket holders asked for a refund. Almost immediately, their tickets were sold to other fans, and the Raiders' 53,250 season tickets were all sold out by the end of May. A new NFL team in Vegas was always ready to work, and while there wasn't success on the field, there was plenty of it.
A quarter down. ⚫️⚪⚪⚪
Behind The Shield is back on YouTube this Wednesday. We're giving you a glimpse of our season like never before. 📆
St.Louis Rams to LA
After initially relocating to St. Louis from Los Angeles in 1995 due to a declining fan base and stadium problems, the Rams found success in their new home of Missouri, winning the 1999 Super Bowl just a few years after moving. Similar issues arose in St. Louis in the 2010s, where fans dubbed it the NFL's worst stadium, and in 2015 owner Stan Kroenke announced the franchise would be based in Missouri and return to Los Angeles.
Was it a success?

100%. The Rams had no permanent home as of 2020 and played at the LA Memorial Coliseum for five years until SoFi Stadium opened and became the most expensive stadium ever at $5 billion. A year later, the Rams won the 2021 Super Bowl against the Cincinnati Bengals, and Kroenke has continued to siphon off local lots to develop team facilities for the Rams and transform the stadium's perimeter into more consumer-friendly areas. It was a huge success on almost all fronts and the Rams remain playoff contenders this season.
What this sample shows is that moving is simply something that can only work in America. When a new town needs a sports team you have to start from scratch in the UK and the franchise model just doesn't work with British emotion and connections to local clubs. Wasps should never have left London, but if there had been no other option a move to Milton Keynes would have been far tastier and more successful in hindsight.