Seaglider startup developer Regent Craft's underscale prototype last month reached a major milestone on its journey to becoming a viable transportation option along coasts or near large bodies of water.
The company's demonstrator, a 1:4 scale model of a production aircraft it plans to call the "Viceroy," successfully transitioned from swimming to hydrofoil to flying during testing in Naragansett Bay off the coast of Rhode Island. CEO Billy Thalheimer announces to FlightGlobal on September 22nd.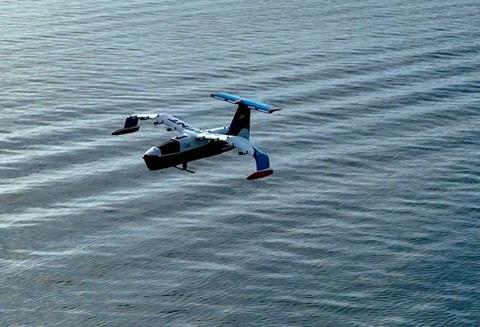 "This is a really big step for Seaglider," he says. "seagliders' goal is to make this regional transportation accessible and easy. And to do that, you need to have wave tolerance and comfortable rides, be able to operate at high frequencies, be weather independent so you can be kept busy so your costs come down and people can rely on your service. "
"The problem in the past was nobody was able to push a foil fast enough [through the water] and get a wing slow enough where they overlap. This is Regent's key innovation and the key differentiator of the seaplane from all wing-in-ground-effect vehicles in the past."
The all-electric, wing-in-the-ground effect (wigs) vehicle is designed to fly within a span of water to take advantage of aerodynamic and operational efficiencies. However, the aircraft's "sweet spot" is around a quarter to a half of a wingspan, Thalheimer says, allowing for increased payload capacity and longer range than other electric aircraft concepts currently in development.
Ground effect is lift generated while an aircraft flies near the earth's surface, forcing air through the narrow space between the aircraft and the ground and reducing aerodynamic drag.
The sub-scale prototype has a wingspan of 18 feet, and Viceroy's wingspan will be around 60-65 feet. Thus, the vehicle will likely be traveling at a height of about 10 to 30 feet above the water.
BOAT, WING, AIRCRAFT
"We'll board like a boat, we'll glide through the harbor as a hydrofoil and we'll only fly out to sea if we can use the speed and if there's no one in the water away," he adds. "The crucial part So of all that, how we couple this foil is what gives us the wave tolerance, security and maneuverability with the wing."
"Functionally we are the first wave tolerant wig, technically we were the first hydrofoil wig. And so we couple this actively steered hydrofoil with our distributed-propulsion electric-distributed airfoil technology," he says.
The company hopes the entry-level Viceroy, which will carry up to 12 passengers and two crew members, can begin sea trials in 2024 and aims to bring the vehicle into revenue service in 2025. Initially it will travel at a top speed of 162 kt (300 km/h) for up to 162 nm (300 km), although Regent says improving battery technology could eventually give its vehicles a range in excess of 400 nm.
The company is working with the US Coast Guard to certify the vehicle as a marine vehicle, but is also coordinating with the FAA, it said.
In May, Regent announced that it was working on a second, larger spacecraft called Monarch. This vehicle will carry up to 100 people and is scheduled to enter service by 2028, says Thalheimer.
At this time, Hawaiian Airlines also made a strategic investment in Regent because of Monarch's potential to operate inter-island routes.
Hawaiian is Regent's first US-based design partner for Monarch, and the sea glider could serve as a replacement for Hawaiian's aging fleet of 17 Boeing 717s, which handle most of the airline's island-hopping routes. Those planes are on average more than two decades old, according to Cirium fleet data, and Hawaiian has said it will be exploring alternatives to replace them over the coming decade.
Thalheimer adds that both airlines and ferry companies in several regions of the world are interested in the ship. About half of the company's $7 billion in pre-orders come from airlines and the other half from maritime.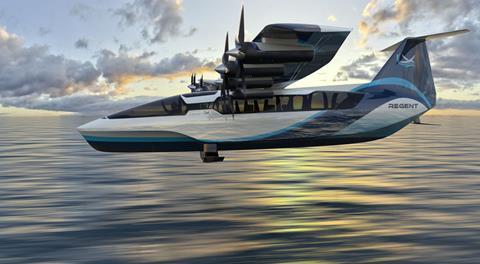 "Regent has created the solution for people who want to travel on those regional routes that are painful on a plane and painful on a boat," he says. A sea glider is six times faster than a conventional ferry, and the vehicle can serve a new market for an airline. Operating costs are also lower, and all-electric seaplanes eliminate emissions.
"Both types of companies serve the end customer who is just trying to cross a body of water," he adds. "The other exciting thing is that we're starting to see the formation of the world's first specialized companies exclusively operating seaplanes."
Regent is initially targeting routes, for example, between the Hawaiian Islands, Miami to the Bahamas, New York City to Long Island, or Boston to the islands of Nantucket and Martha's Vineyard, he says. In Europe "we can cross the whole Mediterranean Sea, Italy, Greece or the English Channel".
As batteries improve, he intends to serve longer routes by the end of the decade, "using advanced cells or hydrogen technology to power our later vehicles." That would allow a Regent seaplane to travel non-stop between Boston and New York City, or from Los Angeles to San Francisco.
In February, Regent announced it had raised $18 million in funding led by Thiel Capital with participation from existing and new investors, including US regional airline Mesa Air Group. As part of the deal, Mesa has committed to purchase 200 Seagliders.