Last fall I studied abroad at the Webster campus in Geneva, Switzerland. After four months of traveling through six countries and 14 cities, here are 10 things I learned from the experience.
All photos in this series were taken by Vanessa Jones.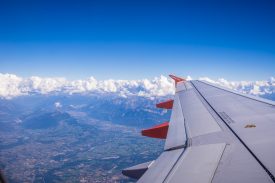 A photo of a 1-hour flight from Geneva, Switzerland to Nice, France. While abroad, make it a goal to visit a new city every week. It took 10 flights, eight buses and six trains to explore Switzerland, France, Greece, Spain, Italy and England. Since traveling in Europe was very cheap. Budget airlines like Easyjet averaged $125 round trip for me.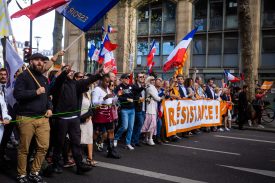 French workers demonstrated in the streets of Paris. There are protests and strikes everywhere in Europe. I planned around the bus strike to get to campus, woke up to hundreds of people lining up outside my window, and learned how to get around London during the train strike.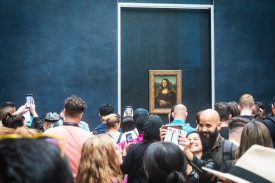 Customers of the Louvre Museum in Paris surrounded the Mona Lisa. At the beginning of the semester, I spent the weekend in Paris visiting every museum possible. It was amazing to see the famous works of art, but I regret spending most of my time outside in Paris. After Paris, I got burned out on museums, so I tried to explore more of the cities and local culture.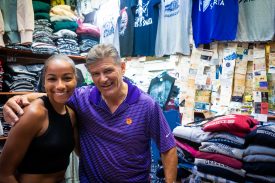 Webster student Micah Barnes with a gift shop owner in Athens, Greece. I studied abroad with my best friend and teammate Mika. We were also roommates and went to many places together. At first, being young women, we were a little apprehensive about traveling alone. We still took many precautions, but there were no problems. Instead, we met many friendly people who helped us better explore and experience the cities we visited. Our favorite city was Athens, because of the people.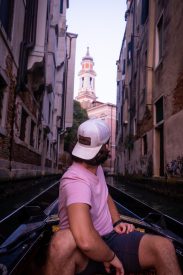 Gondola ride in Venice, Italy. Say yes to experience! Tried not to worry about money. I don't remember how much the gondola was in Venice, Italy, or the sledding in Zermatt, Switzerland, but I do remember how much fun it was.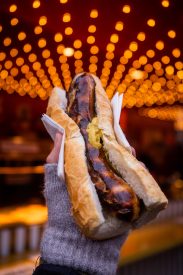 Biscuits in Basel, Switzerland. Say yes to food! Not only is food one of the best ways to experience a new culture, but because of the high food quality standards in Europe, I was able to eat whatever I wanted and feel healthier and fuller than in the US.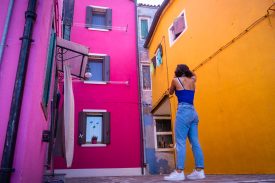 Study abroad student Nike Adewumi takes a photo on the island of Burano in Venice, Italy. Wherever you are, you can always find people with the same interests as you. I was lucky to have a friend to stay behind the group as they were busy taking pictures of the cats.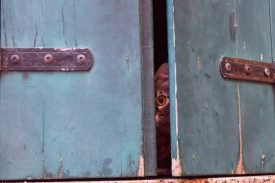 A stray cat in Venice, Italy. Stray dogs and cats were everywhere!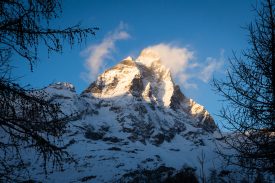 The rear of the Matterhorn as seen from Breil-Cervenia, Italy. I learned not to be afraid to experience things alone. When I studied abroad, I spent most of my time with at least one person. The biggest thing I wanted to do during my time abroad was go skiing in the Swiss Alps. I could not find a friend to ski with, so I went alone. It turned out to be one of my favorite memories of the entire trip.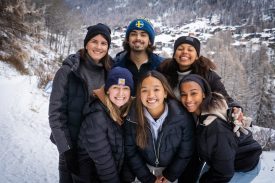 Last day of semester trip to Zermatt, Switzerland with friends. The most important thing I took away from my experience abroad was friendship. From laying in someone's room for movie night to lying on the beach in Barcelona, ​​Spain, they were with me every step of the way.
Share this article