Information (The Jakarta Post)
Jakarta ●
Friday, December 9, 2022

2022-12-09
07:00

5aba7b8a7e7e6df2023f04d0fa0deed0
4
Information
tourist destination
free

The newly opened Padma Hotel Semarang, located on the prestigious Sultan Agung Road, has already attracted local and international attention, recently winning its first award for Readers' Choice Favorite Hotel by Exquisite Media.
This is undoubtedly due to its luxurious concept in relation to the hustle and bustle of Semarang. The modernity of its architectural and interior design, subtly combined with Javanese cultural influence, further defines the feeling of a second home away from home.
The hotel draws its essence from the city's multicultural heritage, while also trying to set new standards for travelers after decades of being mostly known for traditional and vintage tourism. Padma Hotel Semarang carries a long list of resort-style offerings with its lush gardens, heated and salt-chlorinated swimming pool and various five-star facilities and activities. It is hoped that the hotel can contribute to the progress of Indonesia tourism, with Semarang as one of the top destinations for the rejuvenation of the sector after the pandemic.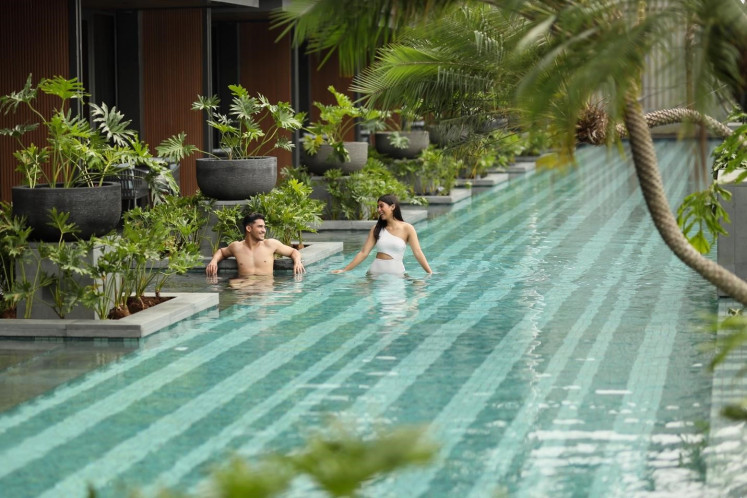 . (./.)
"It is a great privilege for us to be the 5th Padma Hotels property in Indonesia. We aim to uphold the reputation of Padma Hotels by committing to provide the highest standard of service to go well and exceed the expectations of our guests. It is our sincere ambition that Padma Hotel Semarang can become its own destination in Semarang and Central Java," said Eti Rusmiati as the hotel's general manager.
From the 24 hectares of land filled with 224 spacious guest rooms, including pool-access rooms, rooms for the disabled, family rooms and long-term serviced apartments, all available with twin or king-size beds, heated pools and lavish facilities, perhaps one of the highlights of the hotel is its wide range of culinary offerings: Semawis All-Day Dining, Kim Tia Chinese Restaurant, Goolali Gelato Bar & Patisserie and Tuntang Pool Café & Bar.
Semawis All-Day Dining specializes in homemade and authentic Central Javanese and International cuisine, carefully curated from local vendors. Semawis All-Day Dining was also listed as the place to go for Sunday brunch, with the delectable all-you-can-eat offerings for only IDR 285,000++/ person.
In this season of joy, Padma Hotel Semarang's first Christmas Eve buffet and Christmas brunch, with premium Australian dry aged beef, entertainment by Mr. Santa in the evening and jazz performances of carols by a live band. The season will also be complemented with its new rustic menu available throughout the month at Semawis All-Day Dining and Kim Tia Chinese Restaurant.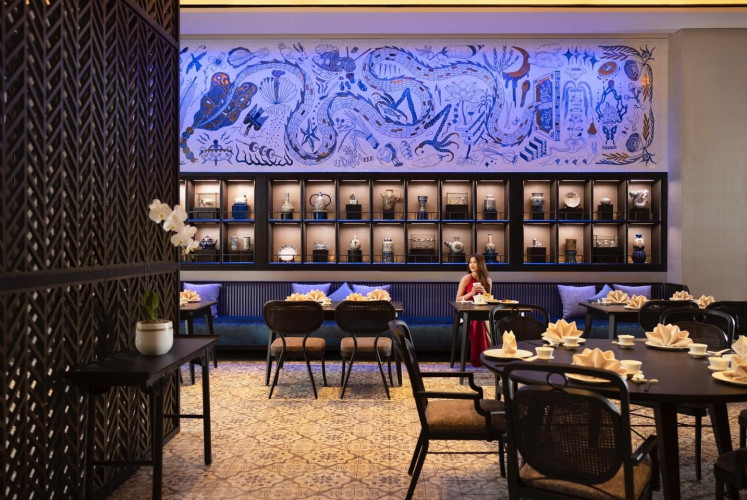 . (./.)
Kim Tia Chinese Restaurant has also made a name for itself with its weekend Yum Cha every Saturday and Sunday. From IDR 35,000++/ menu, guests are welcome to try the contemporary taste of Hokkien cuisine, accompanied by the beauty of art inspired by Semarang Peranakan. His signature Blue Kim Tia drink is a must-try mix of floral syrup, lime and soda, the perfect combination for a refreshing sip with companions on the weekend.
Continue to Goolali Gelato Bar & Patisserie, the hotel's charming patisserie has a casual yet sophisticated ambiance in its delightful location to enjoy coffee and a bowl or two of our signature gelatos with friends and colleagues. With a name inspired by the famous Indonesian sweet gulali, Goolali Gelato Bar & Patisserie aims to express the joy of traditional flavors by using authentic local ingredients in its signature offerings. With its relaxed indoor and outdoor seating, Goolali Gelato Bar & Patisserie is a modern and airy place that shakes Semarang for the best patisserie the city has to offer.