The Middle East is home to some of the world's most impressive architecture and incredible views. If you are planning a trip to the Middle East, be sure to have a camera handy to capture beautiful sunsets and the most memorable moments of your trip. Let's take a look at some of the most iconic and Instagrammable spots in the Middle East.
Burj Khalifa – Dubai, United Arab Emirates
The Burj Khalifa is the tallest building in the world at 830 meters and leaves a breathtaking mark on the Arabian Gulf. It contains residential units and the world's largest shopping mall, the Dubai Mall. It also houses one of the tallest bars in the world, Atmosphere Bar and Lounge, located on the 122nd floor. With its shimmering glass paneling and spiraling geometries inspired by native desert flowers, it is a true masterpiece of modern architecture and engineering. If you're looking for exciting things to do in Dubai, visiting the world's tallest building should be on your list.
If you want an impressive photo of the Burj Khalifa, you need to get some distance to squeeze all 163 stories into the shot. There are many locations to choose from, but the Wings of Mexico statue, Dandelion Lights sculpture and Dubai Steel Heart all make for highly Instagrammable shots with the Burj Khalifa in the background. If you want a close-up, be sure to bring a camera with a wide-angle lens to capture the full size of this impressive building.
Museum of Islamic Art – Doha, Qatar
Whether you are traveling alone or with family, there are many beautiful Middle East holiday destinations to visit on your next trip. Qatar is just one of the best travel destinations in the Middle East that combines modern luxury, interesting history, beautiful beaches and much more. One of the most beautiful places to photograph for your feed is the Museum of Islamic Art in Doha.
Home to one of the world's largest collections of Islamic art, it makes sense that this Qatar museum would be designed as a work of art in its own right. It was designed by renowned architect IM Pei, who was 91 at the time and came out of retirement to travel the Middle East for inspiration. He came up with a simple but very effective and futuristic design that resembles a stack of dice.
The best Instagram shot is in front of the main entrance when it's quiet and there are few other people around. For this reason, an early morning visit is recommended. The museum's main lobby, with its grand spiral staircase and mood lighting, also serves as a brilliant backdrop for beautiful photos. Strive for symmetry in your shots to reflect the precise geometry of the architecture.
Abraj Al Bait Towers – Mecca, Saudi Arabia
This impressive bell tower is 600 meters high and has 120 floors and is one of the most famous buildings in Saudi Arabia. It was built on top of the historic Ayjad Fortress, which caused an outcry when construction began in 2004, but is now considered Mecca's most important landmark, standing just 50 meters from the Kaaba, Islam's holiest site and where millions of Muslims travel year of religious pilgrimage.
The building has an observation tower just below one of the huge clock faces, and this is a brilliant spot for Instagram photos. You can take pictures of the clock face itself or get an incredible view over Mecca, the Kaaba and the Grand Mosque of Mecca. For shots of the tower, take photos even at night when the tower is illuminated and the clock faces are illuminated. However, remember that as Islam's holiest city, Mecca can only be visited by Muslim tourists.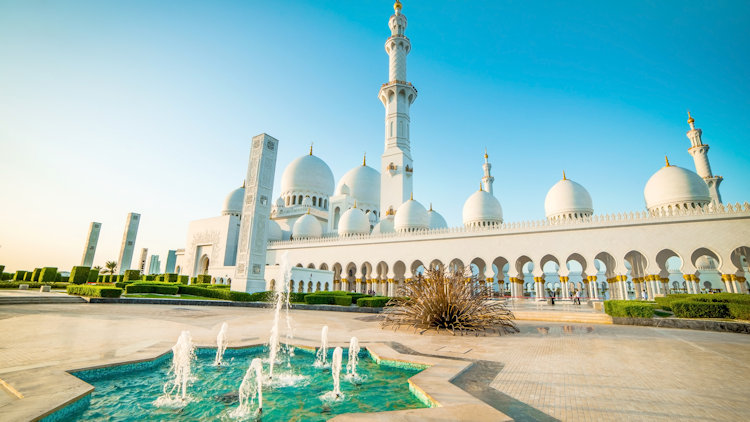 Sheikh Zayed Grand Mosque – Abu Dhabi, United Arab Emirates
As the most visited mosque in the entire United Arab Emirates and one of the largest mosques in the world, the Sheikh Zayed Grand Mosque is a must for photographers. Designed by Emirati, Italian and British architects, it aims to represent Islam's interaction with the wider world. With marble mosaic floors, marble domes and gilded chandeliers adorned with Swarovski crystals, it fuses the Muslim cultures of Morocco, Turkey, Egypt and Pakistan.
The UAE has many beautiful and popular holiday destinations, especially for photography to document your trip. Visiting the Sheikh Zayed Grand Mosque is a great opportunity as it looks very different during the day and night, so you can capture the best of both worlds if you visit an hour before sunset. You'll capture some spectacular shots of the central courtyard as dusk falls. The incredible white and gold building is highlighted against the blue and orange sunset sky. There are also plenty of photo opportunities inside, as the mosque is filled with intricate carvings and marble designs.