Reuters writer Karl Plume reported yesterday: "The low water levels of the Mississippi are likely to continue this winter As drier-than-normal weather is expected in the southern United States and the Gulf Coast, US government forecasters said Thursday.
"The drought that is currently affecting 59% of the country is expected to persist or worsen in the middle and lower Mississippi Valley and much of the West and Great Plains, the National Oceanic and Atmospheric Administration (NOAA) Climate Forecasting Center said in its Winter (December-February) Outlook.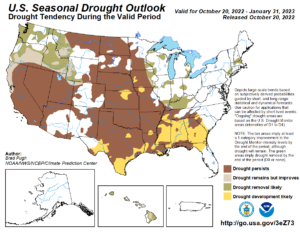 However, above-average rainfall is expected in the Midwest and Ohio River valley may bring some relief to the drought-parched waterway later in wintersaid NOAA, citing the impact of a third consecutive winter of La Nina, a climate phenomenon that is changing weather patterns."
The Reuters article said: "We prefer the lower Mississippi Valley Continuation of below average rainfallsaid Jon Gottschalck, head of the NOAA Climate Prediction Center's Operational Prediction Branch.
"'That would certainly lead to that, if the prediction comes true continued low water levels and exacerbate drought conditions there.'"
Talal Ansari, writer for The Wall Street Journal, reported yesterday: "In the past few weeks Parts of the Mississippi are nearing low water levels not seen in more than three decades due to lack of rain in the Ohio River Valley and upper Mississippi. That has the potential cut off a vital supply route for a variety of goods, including agriculture, oil, and building materials."
Also yesterday, Dow Jones writer Kirk Maltais reported: "The cost of hauling grain by barge down the Mississippi has gone down, but remains significantly higher than this time last year, the USDA says. In its latest Grain Transportation Report, the agency says that for the week of October 18, the St. Louis Barge fell to $72.58 per ton – from a high of $105.85 per ton produced in the previous week. Even so, costs remain 130% higher than this time last yearand 260% higher than the three-year average. "Amid the uncertainty of when shipping traffic will return to normal, some grain shippers have done so late deliveries see you later in the year, which has weakened demand for barges," the USDA said."
And on the subject of the Black Sea Grains Agreement, Maltais noted that "the Black Sea Export Corridor Agreement signed in July has been finalized significantly involved in lowering food pricesbut must be continued in order to bring the flow of grain from Ukraine back to normal levels, says the UN Conference on Trade and Development. Unctad almost says so 8 million tons Grains were shipped as part of the deal, mainly corn and wheat. Developing countries are the main recipients of grains, the agency said."
Meanwhile, Wall Street Journal writer Alistair MacDonald reported earlier this week: "Ukraine said its exports of agricultural products have recovered to about pre-war levelsa revival that has helped ease pressure on global food prices and offers a bright spot in Kiev's fight against Russia.
"However, analysts say the surge in exports, which have been badly hit by the war, hides persistent hurdles for Ukraine's globally important agribusiness. The country relies on grain shipments from the Black Sea, a route dependent on cooperation with Russia. Farmers, meanwhile, have planted fewer grains this year, and Russia still controls a large part of Ukraine's farmland.
"Nevertheless, data from the Ukrainian Ministry of Agricultural Policy and Food shows that the land is being shipped 6.9 million tons of grain, vegetables and cooking oils in the past month, almost matching the 7.1 Millions of tons were exported in September last year."
Reuters News reported yesterday: "Russia's foreign ministry said on Thursday Moscow is ready to boost food and fertilizer exports to avert a global food crisis but is being blocked by the United States.
"State Department spokeswoman Maria Zakharova said Washington would 'blackmail' and 'prosecute' those who try to trade with Russia, thereby endangering global food security."
Also yesterday, Reuters writer Mark Weinraub reported: "Wheat markets have come under pressure Hopes for progress on extension The United Nations-backed Ukraine Shipping Corridor beyond November.
"But talks on extending a July deal that resumed Ukraine's Black Sea grain and fertilizer exports are on not making much progress because Russian concerns are Not be adequately considered, Russia's UN ambassador said in Geneva on Thursday.
"'At the moment it is difficult to get a clear picture of the outcome of the negotiationsas the war between Russia and Ukraine has just intensified," said a Singapore-based trader."
And today, Reuters writer Ece Toksabay reported: "Turkish President Tayyip Erdogan was quoted as saying these words on Friday he sees no obstacles to expansion a United Nations-brokered deal that will allow grain exports from Ukraine after talks with its Russian and Ukrainian counterparts.
"'Nothing stands in the way of an extension of the export agreement. I saw this in the talks I had with (Ukrainian President Volodymyr) Zelenskyy last night and also in the talks I had with (Russian President Vladimir) Putin," NTV quoted Erdogan as telling reporters said on his plane returning from a trip to Azerbaijan."
In other news today, New York Times writer Kim Severson reported: "Thanksgiving 2022 is shaping up to be a difficult year for Turkey. The star of the holiday dinner will be both hard to find and more expensive than ever.
"Deliveries to Turkey have been in short supply for a long time. Producers began restricting rearing of the birds back in 2019 after turkey prices plummeted. Then the pandemic struck, further curtailing production.
"Inflation has also pushed up the price of whole turkeys. Farmers and processors pay much more for feed, fuel and labor, which can be in short supply. They face supply shortages and drought."
Severson pointed out, "All of that means this year is cooking home cooking could pay more than twice as much for a turkey as they did last yearpredict some in the poultry industry.
"And then there is bird flu. A particularly persistent and contagious strain carried by migratory birds killed at least 3.6 percent of the nation's turkeysor about 7.3 million birds so far this year, according to the Department of Agriculture and Watt Global Media, which monitors the poultry business."
The Times article explained: "Most manufacturers, retailers and market analysts don't think meat crates will be empty. Contracts for most of the frozen turkeys were signed in the first quarter, some before the first nationwide case of avian influenza was discovered in a commercial flock on February 8 at an Indiana turkey farm. And much of the nation's frozen bird supply has been ready for months.
"Nevertheless, buyer should not expect the options they have enjoyed it in the past."