Radhiyya Indra (The Jakarta Post)
Magelang, Central Java ●
Thu, September 22, 2022

2022-09-22
11:20
0
653438bc42be6680ce39d10d73cc40ab
1
Art and culture
Indonesia-Bertutur,Borobudur,Central Java,Theatre Performance,Magelang,Music,Art Exhibition
Free

From video mapping to theatrical performances, artists of all disciplines reinterpret Indonesian culture at the country's largest art exhibition in Magelang, Central Java.
Right at the confluence of two rivers, high on the ground, an angry poet let out a torrent of praise and prayer as traditional dancers circled around him.
"The Progo River holds the secret of a long history," he chanted in Indonesian. "Its clear water reflects the light of the sun. The river flows in a tortuous stream."
The monologue was part of the opening of a brand new arts and culture festival, Indonesia Bertutur (Indonesia Speaks), launched by the Ministry of Education, Culture, Research and Technology to be held every two years henceforth. It took place from September 7th to 13th in Magelang Regency, Central Java and for its grand kick-off, local artist Sucoro organized a water ritual with art community Brayat Panangkaran at Eloprogo Art House.
"When we talk about Borobudur Temple, it means we are also talking about water." mbah (Lead) Coro said to the audience on September 7th. Not many people know that Borobudur used to be surrounded by lakes.
Eloprogo Art House is a landmark where two mystical rivers, Elo and Progo, meet. This was one of the places Indonesia Bertutur wanted to highlight because, in an age of endless streaming services and short-lived Twitter trends, he asks audiences: What was our history and why should there be any cultural leftovers at all?
"Borobudur was originally a place to meditate, to pray," mbah said Koro. Now it has instead become Indonesia's number one tourist attraction. "So who is responsible for protecting their spiritual values?"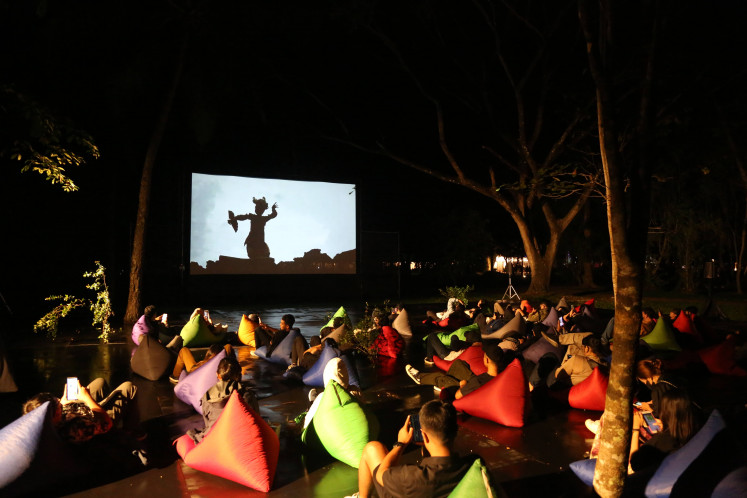 Story in Film: The audience sits together to watch a short film at Layarambha section in Indonesia Bertutur on September 9th. (Courtesy of Indonesia Bertutur) (Courtesy of Indonesia Bertutur/Courtesy of Indonesia Bertutur)
Make sense of the past
This question remains in every artwork or performance presented in Indonesia Bertutur. Under the motto "Experiencing the Past, Cultivating the Future," each artist in the line-up brought the past directly into present-day Indonesia – some in the form of dances, some in carvings, and some in a mix of all of these things.
"We have a lot of cultural heritage from prehistoric times, classical times, etc. Here we invite a number of artists to bring them, but in new forms, so it's a kind of contemporary response to the past," Hilmar Farid, director of Das said Secretary-General for Culture at the Ministry of Education, Culture, Research and Technology on September 7 to the media.
Artists' reactions varied across 116 art installations, slash performances and four different art venues in Magelang: Limanjawi Art House, Eloprogo Art House, H. Widayat Museum and Apel Watoe Art Gallery. From Khvay Samnang's Dance of the Two Dragons by the River to Natasha Tontey's digital-geological era on the big screen, the art here took on expansive forms.
"Rocks are one of the most inorganic materials on this planet, but we often overlook them," Tontey said The Jakarta Post on September 7th. "Rocks are witnesses of life."
Her belief was evident in her video works showing communal life of the Minahasan and an animated vision of their mythologies, which held that the very first human was a woman born out of a rock.
However, the main event of Indonesia Bertutur occurred in the temple area of ​​Borobudur. Music stars from Tulus to Senyawa moved crowds, entertainers Ayo Dongeng Indonesia entertained children with a sing-and-tell story about Borobudur's reliefs, and the Prehistoric Body Theater performed a thrilling ode to ancient Homo erectus, who died millions of years ago lived on Java.
Regardless of the historical theme, the presentations were so full of color and futuristic elements. Take Yogayakarta's collective Teater Garasi, whose acclaimed theatrical performance Vaktu Batu (Stone Time) has been rendered into a new version full of vertical screens and even TikTok tunes.
"The first thing that sparked this show back in 2002 was the theme of transition. For all of us in Indonesia, the issue of transition after 1998 and early 2000s was so sharp – even bloody," said Yudi Ahmad Tajudin, director of the show post.
But for this new version, given the time that followed, Yudi wanted to bring in younger voices to keep the conversation fresh.
"Because the goal is to enter into a dialogue with today, we include young people in the team, among other things," he said, making the performance intergenerational. "One of them was even someone who saw the 2004 version Vaktu Batu in primary school."
The rest of the artists used technology and other mediums to fuse past ecosystems with the present, such as Syaiful Aulia Garibaldi's mushroom-studded iron rod installation and Ade Darmawan's distillation of various spices in seawater dripping onto books about the New Order era. The Borobudur temple itself became the futuristic place for video mapping with pretty pictures every night.
"Our culture must not only be told, but also experienced and witnessed, and this festival offers that experience," continued Farid.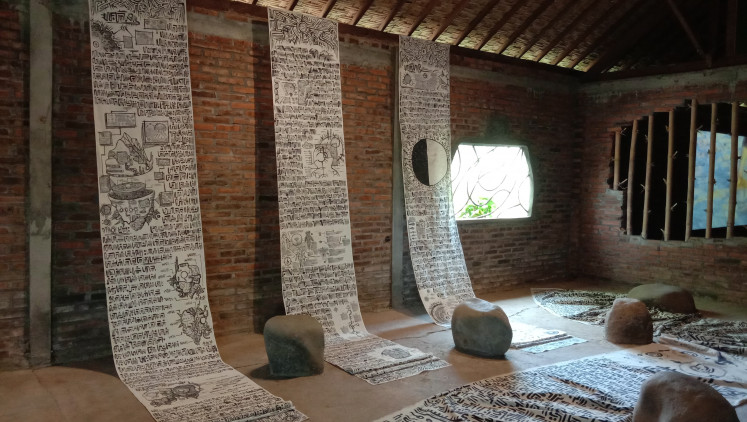 Form of communication: Gilang Anong's paintings will be presented at Eloprogo Art House on September 7th and remain there during the week-long procession of Indonesia's Bertutur art exhibition. (JP/Radhiyya Indra) (JP/Radhiyya Indra)
Protection of our cultural values
When the 2020 pandemic hit Indonesia, it not only crippled the people and economy, but also the art scene. For this reason, Melati Suryodarmo, the artistic director of the event, saw this event as a chance to let the arts communities look back and tell the newer generation how culturally rich we are as a nation.
"There is a lot of 'telling' history in Indonesia, such as tales of Prambanan, which was a Hindu temple, yes, but then, a few hundred years later, the myth of Roro Jonggrang and Bandung Bondowoso emerged. Amazing, isn't it?" said the revered local artist to the post.
"So there was a fantasy that was presented through a new narrative by the local community just for them to have a sense of respect for the cultural heritage," she added.
This narrative tendency is deeply rooted in Indonesia and its art world: it was present in the Limanjawi Art House's family presentations on humans, animals and microscopic forms by Umar Chusaeni, Yasumi Ishii and Utami Atasia Ishii. It was also present in the numerous stories about our prehistoric form as humans, one of which was S. Sophiyah K's installation of the floors where Homo Erectus used to roam – only it was overlaid with video mapping, documentation and even an Instagram filter of the old specimen.
"We're looking for the tracks or remains [of Homo Erectus] that exist in the body of Sapiens today," Sophiyah said of the post on Sept 8
"And we highlighted two activities of the people we studied: holding hands and walking," she said, noting that we went from four-foot walkers to two-foot walkers because we started doing a lot of things together our hands to hold.
And the culmination of this reflection on culture was the Ruwatan Bumi (Earth Ceremony) ritual on September 13 – available to the public only via YouTube live stream – which involved traditional chanting masters whose genres had all but died out. Dressed in their own traditional attire, each performer from different regions belted out a lament about the pain and suffering they had to endure in order to eventually heal. It was also a prayer for Indonesia, its people and the shattered earth.
"Mba Coro asked who is responsible for guarding the values ​​of Borobudur and other cultural sites. Well, we all are. Together," replied Ahmad Mahendra, Director of Film, Music and Media at the Ministry of Education, after the water ritual. "Because in this life, values ​​exist in people."