---
Anne soya* reports on the growing concern among Ugandan health workers that they are inadequately protected against an outbreak of the Sudanese strain of the Ebola virus, for which there is no approved vaccine.
---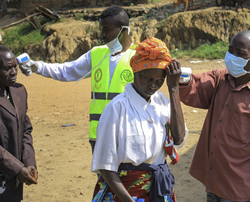 Ebola outbreak in Uganda is proving more difficult to manage than other recent epidemics, but President Yoweri Museveni has dismissed calls for a lockdown.
According to recent figures, more than 30 cases of the often fatal disease have been confirmed, although it is feared the number could be many more.
Ebola spreads between people through direct contact with bodily fluids and contaminated environments. Funerals can pose a particular risk when mourners are in direct physical contact.
Most of the identified cases are in Uganda's central Mubende district, where six people have died.
However, the death toll could be higher. Uganda's Health Ministry says there have been 18 deaths linked to confirmed cases where burials took place before they could be tested.
Another concern is that this is the Sudanese Ebola strain, for which there is no approved vaccine, unlike the more common Zairean strain.
This means health workers, who account for six of the confirmed cases, have not been vaccinated.
Ebola vaccines developed in recent years have not been tested on the Sudan strain
The Zaire tribe was responsible for the largest Ebola outbreak to date in West Africa from December 2013 to 2016. More than 11,000 people died.
With more than 28,000 cases in Guinea, Liberia and Sierra Leone, scientists have been researching Ebola vaccines intensively.
Two years after that epidemic ended, the then-unapproved Ervebo vaccine, developed by Merck, was used during an outbreak in the Zaire tribe in western Democratic Republic of the Congo (DRC).
It was approved by the World Health Organization, which said it limited infections and saved lives. A second vaccine from Johnson and Johnson has now been approved for use by the European Medicines Agency.
However, none of these vaccines have been tested against the Sudan strain.
Uganda is focused on contact tracing – locating people who have been in close proximity to patients, particularly those who attended community funerals.
Mr Museveni said two mobile labs have been sent to Mubende so people don't have to travel for tests and risk spreading the virus.
Medical workers have raised concerns about the lack of adequate personal protective equipment, such as gloves and masks. They have also called for the affected region to be quarantined.
However, Mr Museveni says restrictions are not needed as Ebola is not an airborne disease like COVID-19 and markets, schools and places of worship would remain open.
He urged people to practice personal hygiene and avoid close contact with victims.
*Anne Soya is Senior Africa Correspondent for the British Broadcasting Corporation. She reports across the continent for BBC Global and UK TV and radio programs and digital platforms.
This article first appeared on the BBC Africa website.