I slowly realized after being robbed at the airport that almost everything I do today is on a smartphone.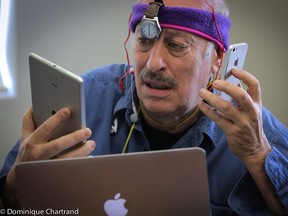 Content of the article
I recently flew to Italy and lost my phone at the airport charger while sleepily waiting to connect to a 4am flight.
Content of the article
The phone is quite old and not worth much financially, but in other ways it is worth it. We live in a world where we rarely think about our 'Wires', extensions of our brains, until we lose them.
Content of the article
So what did I miss in 10 days away from home and away from my phone?
Downtime: In general, I like to read online newspapers in cafes, trains, buses, supermarket lines, and even at long red lights.
But I was going to go cold turkey for 10 days, steal the news until late at night, and I had a feeling that the world was going to end and I was going to be the last person standing in Europe.
I also remembered my messages and wondered who was calling and why I never answered. I miss sitting on a patio or park bench listening to music or doing online crossword puzzles.
I lost the tuning by tuning.
Content of the article
iPhone so I: I was traveling with my wife and 2 friends as I didn't have a phone so I was helpless and tied them up because if we got separated I wouldn't find anyone until nightfall.
They can wander their separate ways and then text each other about where they are. But because I left other people's parents, I clung to them like a toddler.
For example, the Airbnb we shared for several days had only one front door key, which we took turns taking. But the door to the house was always locked when I didn't have the key, so I couldn't contact the others to check if anyone was home.
The first night, I spent half an hour on the sidewalk, my apartment bell ringing, and my family wondering where I was. None of us knew the doorbell wasn't working and I couldn't call the people inside to tell them I was outside.
Content of the article
I ended up ringing the windows on the fifth floor for 15 minutes until a stranger on the third floor got fed up and let me in, saving me from being homeless and without a phone in Italy.
GPS capabilities: The biggest challenge was when I tried to go for a walk alone. When I didn't have a GPS to navigate new places, it became difficult to find a paper map in a phone booth.
I've always had terrible orientation, so I lost Waze on my phone and lost my way through the tangled streets of medieval Italy. I had to drive like it was last century and stopped countless strangers mumbling Spanish/English (my Italian).
"In advance! Habla English? … Great! Which … way is … Museo … Grande … Archaeologia?"
They then plot the route on their phone's GPS map, adding to my growing phone FOMO.
Content of the article
Online Omnipotence: Missed the information highway. When I stumbled upon an amazing monument or museum, I couldn't help but look for information about what I was seeing.
Almost the entire museum floor guide was accessible via a QR code downloaded to your phone. Paper travel brochures are following in the footsteps of the Encyclopedia Britannica set.
I felt like an online social leper when I saw other people listening to phone audio guides.
Gradually, I realized that everything I do these days is based on the phone. Couldn't check the weather, which is customary in everyday life. Few of us have actual cameras, so I couldn't take a picture of mine.
In the morning I spent time with my phone's alarm, and at night I squinted at my watch in the dark. Other times I couldn't call an Uber, find a restaurant, or use a Bixi-type bike because you needed a phone number.
Content of the article
I even missed that little flashlight that helped me read the little menu items.
Fortunately, proof of vaccination is no longer required to fly home. If I lost my phone a month ago, I might be in Italy.
I know some people choose not to have a smartphone and are happier doing so. But for me, it was a step back into prehistoric times, into the 20th century.
However, there was something I didn't lose by not having a phone. I wanted messages from home, but I didn't miss checking them often.
I spent more time looking at the people and the beautiful architecture, and when I traveled I felt like I was farther away from home than usual. I didn't miss any warnings or anything moaning I have a constant buzzing sound on my phone but it's hard to turn it off.
Thanks, I've got 500 names of methadone replacement e-books for information addiction. So at least I read more.
Content of the article
Am I more relaxed, distracted, or more "intentional" in this new wireless world? Not really: my mind was too full to think about my missing phone.
But the disconnect showed me just how addicted I am to today's connected world. More than 60 years ago, Mordechai Richler's Duddy Kravitz declared: "A man without a place is nobody."
But on a trip today, he changed it to "No one without a phone."
Help! Inundated with data from our forever connected universe

Josh Freed: Hey, why not set a phone reminder to read this column?

Josh Fried: It's Time to Diversify Big Storm Names