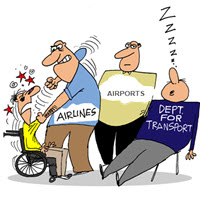 It has emerged that the UK Department for Transport has removed Article 16 from UK1107/2006, the Disability Passengers Rights Protection Act. This deletion has stripped the law of any significant enforcement tool. This is a serious issue for passengers with disabilities as it means they have no legal recourse if they are discriminated against when traveling by air.
The Department of Transport's Aviation Directorate (DfT) has explained why the article was removed. In a letter dated September 23, 2022, the management announced that the article was no longer required because the information contained therein was now out of date.
"When this regulation was retained in UK law at the end of the transition period following the UK's withdrawal from the EU, Article 16 was repealed by the Air Passenger Rights and Air Travel Organisers' Licensing Regulations 2019 (SI 2019/278). This is simply because Article 16 was a provision from the EU to Member States which is no longer necessary or appropriate now that the UK has left the EU. It required member states to set sanctions for breaches of the regulation, which the UK had already done."
The Aviation Directorate stated that under the Enterprise Act 2002, the Civil Aviation Authority (CAA) has the power to enforce aviation consumer laws where violations harm the collective interests of consumers. The CAA is responsible for ensuring a level playing field for all industry participants and works to protect consumer interests when airlines or airports violate aviation consumer protection laws.
Under this legislation, the CAA employs a variety of enforcement measures to ensure companies are compliant. This includes advising companies, obtaining formal commitments, issuing warnings and applying for enforcement titles from the court.
The DfT provides assurances that stand in stark contrast to a comment by Dame Deirdre Hutton, who served as Civil Aviation Authority Chair between 2009 and 2020.
"We have enforcement powers, but these are limited to the ability to initiate criminal prosecution. Unfortunately [enforcement] Powers are not very flexible or proportionate and make it difficult for us to take action."
The Enterprise Act 2002 does not give the regulator the power to enforce individual breaches, as CAA management has acknowledged. Enforcement of UK1107/2006 may only take place "where breaches harm the collective interests of consumers". From this perspective it is easy to understand why the CAA has not yet taken legal action to enforce UK1107/2006.
Since the UK government removed article 16 from law UK1107/2006, there has been a legal loophole which unscrupulous operators have exploited. They know there are no significant consequences for breaking the law, so they keep doing it.
The disability community has increasingly spoken out in recent years about the lack of dignified, accessible services when traveling by air. This has led to a number of high-profile incidents where disabled passengers have been stranded or mistreated by airports and airlines.
Those responsible for the recent spate of incidents in the aviation sector remain unpunished due to a legal vacuum created by the Department of Transport. The government must take action to ensure those responsible are held accountable for their actions.
There are a number of supervisory authorities in different countries that can take action against individual violations of the law. This puts the UK in a unique position as there is no meaningful way to enforce the rights of disabled passengers. This is an important issue for many disabled people as they often feel isolated and helpless when faced with air transportation problems.
Restricted Mobility Rights urges the Government to take immediate action to give the UK Civil Aviation Authority the power to impose penalties for individual breaches of Regulation UK1107/2006. Every day that indecisiveness and delay persist, unscrupulous operators go unpunished at the expense of the most vulnerable members of society.
Reduced mobility rights will target Members of both the House of Commons and the House of Lords as Parliament rises from recess to push this crossbench issue forward. This is an important issue for people with reduced mobility and other disabilities and we hope that by raising awareness and working with parliamentarians we can make progress on this matter.
quotes
"The Air Passenger Rights and Air Travel Operator Licensing (Amendment) (Withdrawal) Regulations 2019." The Air Passenger Rights and Air Travel Operator Licensing (Amendment) (Withdrawal) Regulations 2019www.legislation.gov.uk/uksi/2019/278/regulation/9
Enterprise Act 2002. Companies Act 2002www.legislation.gov.uk/ukpga/2002/40/contents