Tunggul Wirajuda (The Jakarta Post)
Jakarta ●
Sunday, December 4, 2022

2022-12-04
12:00

499db3314bec618375f5d217fc0b59a6
1
Art & Culture
Coffee, Travel, Book Review, Kopi-Dulu, Book
free

In a new book, British journalist Mark Eveleigh recounts his caffeine-fuelled travels through Indonesia and the many-faceted insights he gained along the way.
As an old Indonesian hand, Eveleigh thought he could keep the North Sulawesi region of Minahasa's saying that its "people eat everything with four legs, except the table", as his guide from the region, Elvis Pangemanan said.
"We eat a lot of things with less than four legs […] and many things without legs," Elvis had said.
Eveleigh remembered when Elvis invited him to try the local specialty of flying fox bats. He said his "heart was pounding nervously".
"[I was] disconcerted to see that the shop [food stall] Menu included dog curry along with […] baby hutan [jungle pig]".
Eveleigh claimed the court was not for the year because he found the rodent "had an undesirable dog-like muzzle".
"The wings are said to be a real Minahasa delicacy, but the [culinary] The experience was a lot like eating boiled garbage bags spiked with a sharpened stick," recalls Eveleigh.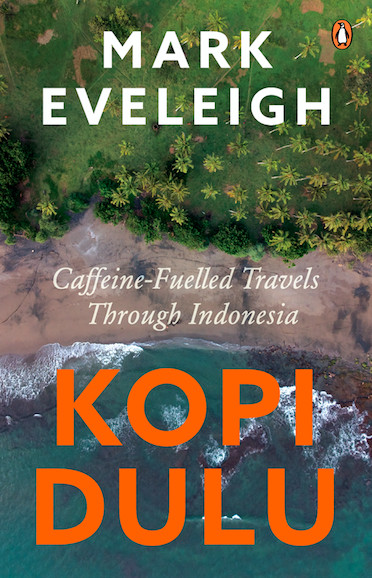 But first, coffee: Pictured is the cover of the book "Kopi Dulu" (roughly translated coffee first or let's drink coffee), where the author Mark Eveleigh shares his "travels through Indonesia for the last 25 years" . (Courtesy of Penguin Random House SEA /.)
Layout Indonesia, one coffee cup at a time
Eveleigh's culinary adventures are among the anecdotes he tells Kopi Dulu, a travelogue of his trip through Indonesia. The title of the book comes from an Indonesian expression that means coffee first or let's drink coffee, a recurring theme that evoked the company of the people he met.
Eveleigh also has the saying with the Indonesian way of taking time or jam karet (rubber time) and step by step (taking things slowly or doing things more slowly), a phrase he translated as "slowly-slowly".
"[Kopi Dulu] recounts my travels through Indonesia over the past 25 years. During that time I managed to travel about 15,000 kilometers and 50 islands by sea and land," said Eveleigh in a video interview.
"Except for a fingerprint, Kopi Dulu is also a good way to break the ice with the people I meet.
He added that many of his trips to Indonesia, along with parts of Africa, South America and the rest of Asia, were on assignment for newspapers and media such as the BBC, CNN, Telegraph, Guardian in the Independent.
Eveleigh is taken by the size of Indonesia, which he notes is "a similar distance from London to Khartoum, the capital of Sudan", as well as its great diversity and relative obscurity to much of the international community.
"I once heard Indonesia described as the most invisible country in the world […] which has somewhere between 13,000 and 17,000 islands spread across three time zones," he said in the foreword of Kopi Dulu.
Eveleigh also noted that Indonesia's biodiversity is second only to Brazil, although "almost a quarter of Indonesia's 667 mammals are listed as 'threatened'."
The statistics besmirched the true wonders of Indonesia for Eveleigh and other travelers to Indonesia, namely the country's multitude of cultures, peoples and wildlife, an experience sweetened by countless cups of coffee.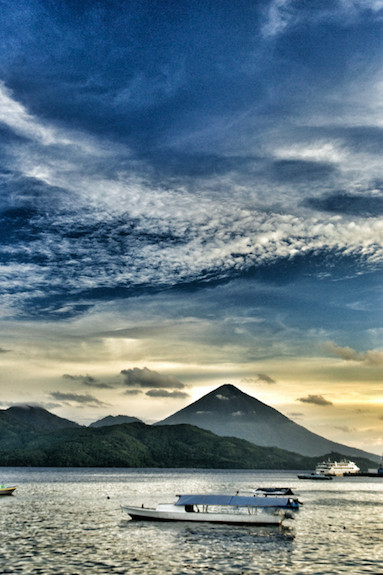 Tropical idyll: A view of Ternate Harbour, North Maluku. In his book entitled 'Kopi Dulu', Mark Eveligh recounts an incident in Ternate, North Maluku, during the Second World War, where the locals turned the tables on the Japanese army. (Courtesy of Mark Eveleigh) (Courtesy of Mark Eveleigh/.)
An Indonesian quest
Eveleigh sense of a search and Kopi Dulu invoked the opening lines of the Greek poet Constantine Cavafy's poem Ithaca: "When you go on your journey to Ithaca / Pray that the road is long / Full of adventure, full of knowledge."
Cavafy followed the trail of 19thCentury British naturalist Alfred Wallace as he follows the fauna border between Asian and Australian species, and Cavafy gives a firsthand observation of funeral rites in the South Sulawesi regency of Tana Toraja. There are also musings about Indonesia's past in Jakarta's historic Sunda Kelapa port.
Some passages, such as reaching orphaned orangutans in Bukit Lawang National Park, North Sumatra, during a trip to the area in 2003, are tender and touching, while an anecdote about wrestling monitor lizards and the reptile's tail on the 'Being hit in the forehead. could be fun.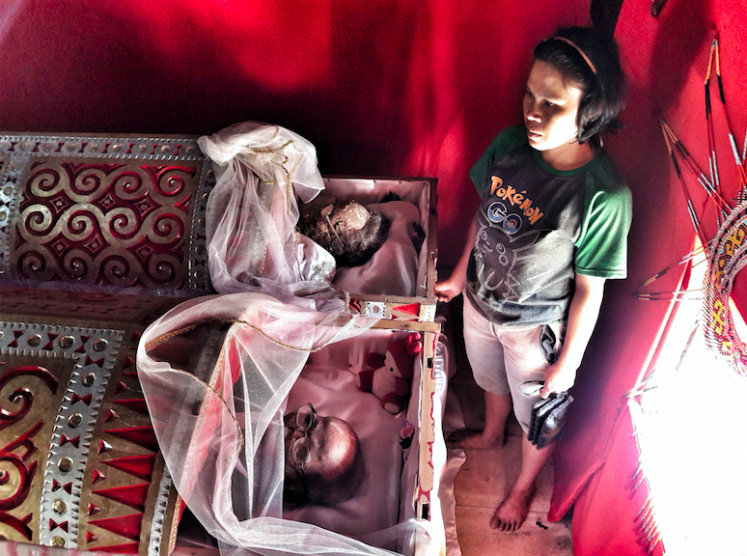 The lingering past: A Toraja resident visits her dead relatives. Eveleigh describes mourners at a Tana Toraja funeral as acting like "they're in a punk rock mosh pit rather than a group of pallbearers like the barging, wobbly gang of sweaty, black-shirted teenagers trying to knock each other off their feet or to lock. the bamboo poles away." (Courtesy of Mark Eveleigh) (Courtesy of Mark Eveleigh/.)
He describes mourners at a Tana Toraja funeral as acting like "they're in a punk rock mosh pit rather than a group of pallbearers like the barging, shaky gang of sweaty, black-shirted teenagers trying to knock each other off their feet or a key away from the bamboo poles."
But Eveleigh notes that the method for her madness "is to disorient and displace potentially dangerous spirits".
Death is never far behind. This thinking is seen from flash floods from the Bohorok river killed more than 250 people around Bukit Lawang days after his stop there or tells the survival of the capsizing of the Sinar Bulan in Kalimantan.
An encounter with an elderly Western woman in Gorontalo, North Sulawesi, who saw her father killed by Japanese occupation forces during World War II, as well as recounting an incident in Ternate, North Maluku, during the same conflict where residents have turned around. Tables about the Japanese, reveal how the past was liable to be repeated.
Despite the dark chapters of Indonesia's history, Eveleigh believed that the country has many ways to attract visitors, not least its traditional hospitality.
"I feel safer in many Indonesian villages than I ever will in dozens of Western cities," he said.
However, he laments the substantial challenges facing the entire scope of the country.
"The 30-day period for visa-free entry to Indonesia does not give enough time to explore the country intensively, not least its more out-of-the-way parts," said Eveleigh. "It is also difficult to pitch foreign magazine editors on Indonesia-related stories."
Nevertheless, these challenges did not prevent Eveleigh from exploring Indonesia, especially islands such as Borneo, Flores and Sulawesi, before reaching the border between the Indonesian province of West Papua and Papua New Guinea. How the journeys he recounted can be framed Kopi Dulu as a travelog full of adventure or knowledge and a viable introduction to Indonesia's great unknown in Java and Sumatra.