Boeing's vision of future mainstream travel includes automated unmanned electric planes functioning as taxis, and on Tuesday released a detailed roadmap on how to get there by 2030.
The concept of operations, or "ConOps," was conducted as a joint venture with electric autonomous vertical takeoff and landing (VTOL) company Wisk, a company whose predecessor Zee Aero was helped to found by Google co-founder Larry Page, and now counts Boeing itself among his investors.
In addition to the duo, there were many other partners and collaborators involved in the roadmap, including the FAA, NASA, Boeing's unmanned aerial vehicle (UAV) research subsidiary, Aurora Flight Sciences, AI airspace management provider SkyGrid, and more.
The overall vision focuses on the lofty core idea that the service of these flying taxis should be a "safe, affordable, everyday flight for all". The service would be available day and night with visual or instrument weather conditions.
The 64-page ConOps provide technological, regulatory, and social recommendations for integrating Urban Air Mobility (UAM) specifically into the United States and its national airspace system, with the intention of being globally applicable.
The aircraft itself requires detection and avoidance and landing hazard avoidance. Even though it will take a given path, it must navigate outside of that path in case it needs to land in alternate spaces or otherwise make last-minute redirects. The UAM itself is powered electrically. These low-carbon emissions will be important if the technology is to be deployed at scale.
But the stated ConOps recognizes that some other advances will need to go beyond the aircraft itself before that vision can become a reality, and sees changes as something of a stepping stone.
The United States will need massive infrastructure, starting with the vertiports from which planes can take off and land or load goods and passengers.
In addition, there must be fleet operations centers or an air traffic control unit where a professional monitors and manages not just one, but multiple vehicles at the same time, connecting via Internet Protocol (IP)-based communications. And then there have to be third parties that provide ground-based solutions, do tasks that a pilot would normally do onboard, implement and maintain C2 data connections and cybersecurity.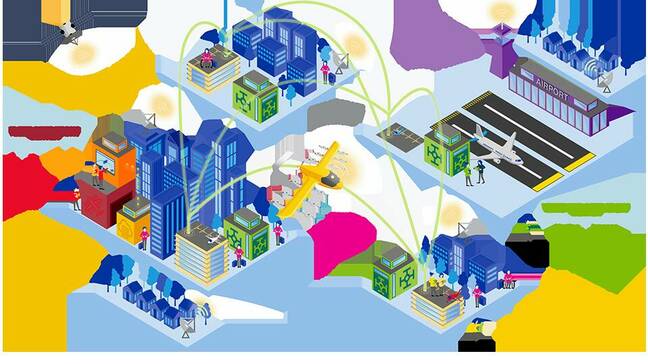 And before these vertiports can go full throttle, they must move beyond the current system of heliport and vertiport operators authorizing access to their surfaces, with landline operators managing schedules and vertiport managers controlling surface movements and slot allocation.
Boeing also assumes that there needs to be a global evolution in the regulatory space. This task must be taken on by the UAM industry itself, and in order to achieve this and to achieve the necessary public support that goes with it, the industry must also improve the safety level of UAM.
"Ultimately, public acceptance of unmanned UAM operations will be the critical component to scaling the market," Boeing said.
One thing is clear about this plan – a lot needs to change in order for it to (pardon the pun) fly.
"This ConOps intentionally defines a future that requires an evolution of the current state," according to the roadmap's authors.
"The important work we're sharing today is a springboard for the advancement of UAM in the US and globally," said Gary Gysin, CEO of Wisk, in a prepared statement. ®