Lufthansa has told the public that it wants to learn from nature on its way to becoming sustainable and carbon neutral. LH still has a lot to learn.
Much emphasis in Lufthansa's public relations outreach is given that the airline followed a green policy, and the carrier's goal was to become carbon neutral.
In reality, it creates anti-green measurements so that it can make passengers imagine how green and bio-conscious Lufthansa is.
Perhaps Lufthansa catering experts do not realize that carrying tons of bottled drinking water around the world only for the purpose of serving it to Germany-bound passengers on their way home is very counterproductive, not sustainable, even if the water is bottled under green principles.
Uniquely, a green organic water produced in Germany can be a great option for the airline to serve on outgoing flights, allowing leftovers on board to serve on return journeys.
Looking at the photo with a beautiful supported uniquched water at the Lufthansa catering station in Munich, a worker told eTurboNews: "Look at my photo. It's what the water looks like when Lufthansa takes it on a walk around the world does.
"The water in the photo is about to be delivered to Bangkok so that returning passengers can enjoy drinking water produced in Germany on their flight home."
In June, eTurboNews reported on a similar issue when Germany produced Coca Cola was sent to San Francisco for Lufthansa passengers to enjoy on their way home to Germany.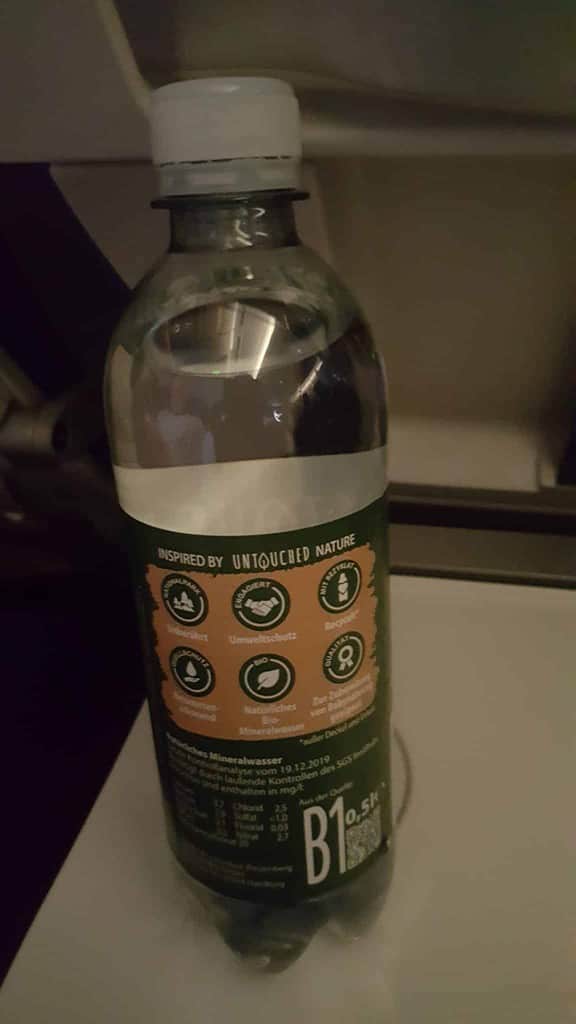 Uniqued explains on its website, Theat climate change is no longer a problem, against which one closes one's eyes. "For that reason we understand sustainable, and that is the DNA of our company?
In a press release released last week, the Lufthansa Group assumes responsibility for effective climate protection with a clearly defined path towards CO2 neutrality.
To be fair, such policies are followed by many airlines. For example, US bottled water is sent to Munich for American Airlines passengers.
When eTurboNews asked Lufthansa how much it costs, and what the fuel consumption is to ship this water around the globe, there was no answer.
Healthy BIO water made and bottled in Germany is served on all Intercontinental Lufthansa flights to and from Germany.
This water is sent by air freight on Lufthansa flights to distant cities such as Bangkok, San Francisco or Johannesburg.
Lufthansa passengers in all classes will be served Uniquched, National Park organic drinking water, bottled and imported by air freight on Lufthansa from Germany.
Lufthansa claims to follow nature's example, Lufthansa Technik and BASF have jointly developed the functional surface film AeroSHARK for commercial aircraft.
The film is modeled on the microscopic structure of shark skin and is applied to the outer skin of the aircraft. It directly reduces aircraft drag, reduces kerosene consumption and thus CO₂ emissions. The Lufthansa Group will be the first airline group in the world to equip more than 20 long-haul aircraft in its fleet with aerodynamic sharkskin film. After extensive testing and a certification process lasting several months, the European Union Aviation Safety Agency (EASA) has now awarded Lufthansa Technik a Supplemental Type Certificate (STC) for the series application of this technology on two Boeing 777 models.
In the future, all twelve long-haul B777-300ER aircraft at SWISS will fly with the fuel-saving surface technology. The same applies to Lufthansa Cargo's current fleet of eleven Boeing 777F freighters. The first SWISS aircraft equipped with AeroSHARK (registration HB-JNH) is already in scheduled service since October. This aircraft had also completed the flight test program for the certification it has now received. In January 2023, the next Boeing 777 aircraft in Frankfurt and Zurich are to be modified with the riblet films.
"For a more sustainable future in aviation, we are consistently leading the change in our industry. Our ambitious goal: a neutral CO₂ balance by 2050. Already by 2030, we want to halve our net CO₂ emissions compared to 2019. With the broad rollout of the AeroSHARK surface technology developed by Lufthansa Technik together with BASF, we once again emphasize our innovation leadership. We are the first airlines worldwide to use this new technology," said Christina Foerster, member of the Executive Board of the Lufthansa Group , responsible for brand and sustainability. "By covering more than 20 aircraft with the new Sharkskin film, we will reduce the Lufthansa Group's CO₂ footprint by more than 25,000 tons annually."
By 2030, the company's own net CO2 emissions should be halved compared to 2019, and by 2050 the Lufthansa Group wants to achieve a neutral CO2 balance. To this end, the company relies on an accelerated fleet modernization, the continuous optimization of flight operations, the use of sustainable aviation fuels and innovative offers for its customers to make a flight CO2 neutral.
Related news