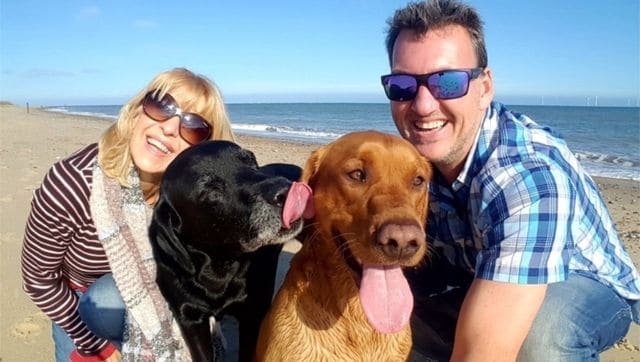 Julie and Jonathan. file image. Source: theglobalpetsitters.com
London: In five years, a middle-aged couple from the UK managed to travel to nine countries without spending a dime on rent, in fact they earned money by providing a home/pet service to families around the world.
They provide customers with the comfort of knowing their furry friends are receiving the best care in exchange for a free stay.
Since giving up virtually everything they owned to travel the world in 2017, Julie and Jonathan have lived in nine different countries, including the US, Australia, Thailand and Spain.
Julie and Jonathan, who are in their 50s, have provided free care to a range of pets including dogs, cats, fish, hamsters, chickens and guinea fowls, a horse, a Konkona pig and even a 40-year-old tortoise.
And based on their calculations, the pair, who own an online holiday rental company, each spend just £10,000 a year.
Former property manager Jonathan, who is now based in Sydney, told the media: "We live in an ideal, traveling to places we could never see without keeping pets. The animals play such a significant role in our journey too.
The couple, who have four grown children, began caring for pets full-time in 2017.
Julie, a former school secretary, claims that since they no longer had their own animals and were eager
To experience something new, making the decision was simple.
She explains, "We wanted to travel, so we quit our jobs in 2016 and launched our online vacation rental business in Spain. Plus, since it was easier to be uncluttered, we chose to sell the house," she said.
When they took a three-month break to create a business strategy in Thailand, they signed up with a company called Trusted Housesitters.
The pair paid £99 to set up a profile on the site, which allows them to marry their love of animals with their ambition to live on the road permanently.
"It was like music to our ears to realize we could pet-sit and rest," Julie explains.
In February 2018, they were first hired to care for a Pyrenean Mountain Dog named Txuri in Aldburgh, Suffolk.
Since then there has been no stop for the couple. They reportedly looked after a KuneKune named Venus in Norfolk, Cornwall and Wales. Then, a horse called Patsy and some ducks in Britain.
The couple decided to widen their search after looking at 30 different UK residences in October 2019.
They went to California for three months, moved to San Francisco, where they lived in a four-bedroom house with Mookie, a "stupid" Samoyed.
The couple left us their car so we could drive it to all the beaches in San Francisco, Julie adds.
"We had to pinch ourselves to be sure that this was really our life," she said.
They stopped when the pandemic forced them to return to the UK in March 2020. As their business was based on travel, the couple had to work in supermarkets and lived in a caravan in Norfolk.
Jolie told reporters: "But by the end of July, Britain had opened up a bit and we were back pet sitting in Norfolk and Scotland with some lovely little dogs."
The two bought a tent and spent a few months camping in Scotland when the rules changed once more before returning to work.
According to reports, the couple is currently visiting family in Australia, they are already planning more pet sitting programs, but the industry is not the same as it was for them five years ago.
Dr Hayley Stainton, founder of the Travel Awareness Group said the number of people traveling to care for animals had been steadily increasing.
People are taking vacations they otherwise couldn't afford, she continues. Plus, it gives them a more real experience.
read all latest news, Trending news, Cricket news, Bollywood news,
India news and entertainment news Here. Follow us on Facebook, Twitter and Instagram.