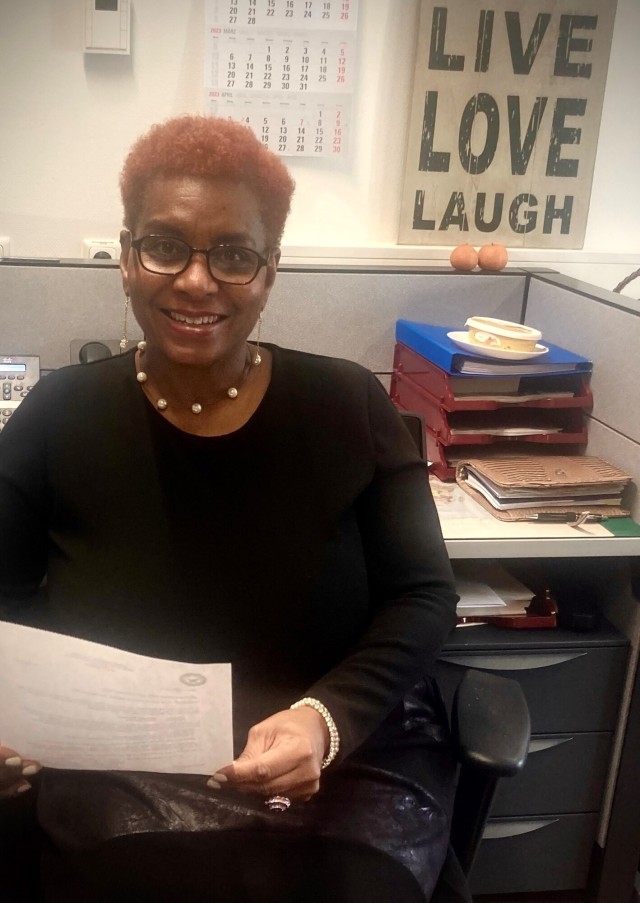 BRUNSSUM, Netherlands – After many trips to Italy, the traffic management specialist was looking for a change of scenery and wanted to experience more of Europe. So when she got a job offer, and a promotion, Victoria Letrien grabbed it.
The Brunsum Installation Transport Officer has been assigned to the Benelux Logistics Readiness Center since April 2022. He said he is very pleased with his new work location and new organization.
After three stints in Italy, most recently with the 39th Movement Control Team in Vicenza, Letrien says almost everything about the Netherlands, and his new assignment with the 405th Army Field Support Brigade, LRC Benelux, is different.
"Living in the Netherlands is different than living in Italy, but I like it," Letrien said. "I think it's a really beautiful country, I like the nature here. For example, there are so many beautiful hiking trails to explore, which I really enjoy."
One of the biggest differences between Italy and the Benelux is the climate, says the Trinidad and Tobago native who now calls Raleigh home. Brunsum is quite cold in the winter months, he added.
Work is also different. In his new role at LRC Benelux, Letrien oversees all private equity activities for the broad range of operations. This includes household goods and unaccompanied baggage for U.S. military personnel and their families in Belgium, the Netherlands, Germany and parts of France.
"We have quite a large area that is considered the remote part of France. We also handle some moves in and out of Poland, in and around our operating regions. In fact, today we received a request to support the move to Estonia, so it's interesting," said Letrien.
"Generally, I am responsible for the timely and orderly fulfillment of customer requests for supplies of household goods in my area of ​​responsibility," Letrien said. "As Senior Transport Officer at Brunsum, I lead a team of transport workers."
With over 21 years of experience, Letrien is more than capable. He worked as a civil servant in the transport sector for almost 17 years. In addition to working in Italy, he also worked in Charleston, Florida, and Pensacola. He even worked as a contractor for the Navy's Evacuation Department, where he served five years in the Army, finishing as an Army Corporal.
"I have a very good team," Letrien said at LRC Benelux. "They are very knowledgeable and reliable people and I depend on them. They give me the time I need to complete the administrative part of my role."
With two grown daughters and three grandchildren, ages 5, 8, and 11, Letrien's family understanding of these years in the military is slowly expanding. He now considers his soldiers to be an extension of his immediate family.
"Without the troops, I would be out of a job, so this is my way of giving back," he said. "With my background and experience in the transportation industry, I am able to positively impact Soldiers and their families and provide them with a little extra care during what is considered a stressful time, such as the constant change of station movement. "
Letrien manages more than a dozen employees assigned to the transportation office in Brunsum. This includes transportation consultants, quality control, driver testing, training station private property, quality control, and driver testing staff. The Personal Property Office advises and assists community members with household goods, unaccompanied luggage, temporary storage and privately owned vehicles. They also provide community members with a well-informed and concise introduction to their rights regarding anything related to private property, including storage and transportation. Host Country IDs are issued to members of the US military community for driver testing and training in Brunsum.
Benelux LRC is one of seven LRCs under the command of the 405th AFSB. The LRC provides installation logistics support, including supply, maintenance, transportation, as well as outfitting facility operations, hazardous materials management, personal property, household goods, passenger travel, non-tactical vehicles, garrison equipment management, and property registration operations; performs the service. In terms of providing day-to-day installation services, LRC Benelux directs, manages, and coordinates various operations and activities in support of US Army Garrison Benelux.
LRC Benelux reports to the 405th AFSB, assigned to the US Army Support Command, and is under the operational control of the US 21st Theater Support Command, Europe and Africa. The brigade is headquartered in Kaiserslautern, Germany, and provides material enterprise support and logistics support for theater operations to US forces throughout Europe and Africa; synchronizing procurement, logistics and technology; use of the US Army Materiel Command's materiel plant in support of joint forces. For more information about 405th AFSB, visit the official website and official Facebook page.