Rolls-Royce today welcomed the decision of the European Union's Clean Aviation program to provide over €700 million in funding for 20 aeronautics research and innovation programs from across the industry.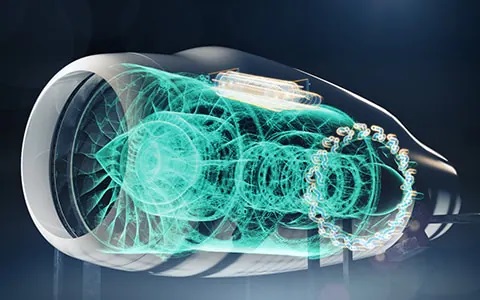 Image courtesy of Rolls-Royce
Following evaluation of the first call for proposals, subject to the successful completion of grant preparation, a portion of this funding will enable Rolls-Royce and its partners to conduct breakthrough research that will accelerate research into sustainable propulsion and decarbonisation.
The Clean Aviation Joint Undertaking is the European Union's leading research and innovation program to transform aviation into a sustainable and climate-neutral future. Rolls-Royce will be a partner in six programmes, including the main coordinator in the three research and innovation projects detailed below:
HEAVEN – Hydrogen engine architecture Virtually newly developed:
The consortium is led by Rolls-Royce and includes key academic, research and industrial partners in France, Germany, the Netherlands, Spain and the UK. This project will significantly advance our scalable UltraFan® architecture and technology suite for future civil aerospace capabilities, providing a platform for hydrogen technology and hybrid electric technology that can be suitably integrated into our civil aerospace portfolio.
HE-ART – Hybrid electric propulsion system for regional aircraft:
This consortium, made up of a diverse industrial, research and academic team, is led by Rolls-Royce with partners from Austria, Belgium, France, Germany, Italy, Norway, Poland, Romania, Spain and the UK. HE-ART will focus on demonstrating fundamental technologies for hybridization through ground demonstration of a hybrid-electric thermal turboprop (e-TP) while taking important steps towards an optimized hybrid propulsion system for a future regional aircraft.
CAVENDISH – Consortium for the AdVent of aero-engine Demonstration and aircraft integration Strategy with Hydrogen:
Led by Rolls-Royce, this consortium will include key academic, research and industrial partners from Brazil, France, Germany, the Netherlands, Portugal, Spain and the UK. CAVENDISH will integrate liquid hydrogen systems into a modern donor engine for ground testing. The project will also investigate alternative enabling technologies in the form of a dual-fuel combustor system and a cryo-compressed tank system, and will define requirements and activities for the flight demonstration.
Alan Newby, Director of Aerospace Technology and Future Programs at Rolls-Royce, said: "We are delighted to have been asked to proceed with the preparation of funding through the European Union's Clean Aviation programme. Rolls-Royce is focused on advancing sustainable energy and propulsion systems and this will build on our existing expertise to accelerate the technological breakthroughs that could help to become carbon neutral by 2050 and the way we to travel, to change."