Indonesia is an amazing place for adventurous travelers. Here are the top 10 resorts you should book for your next trip.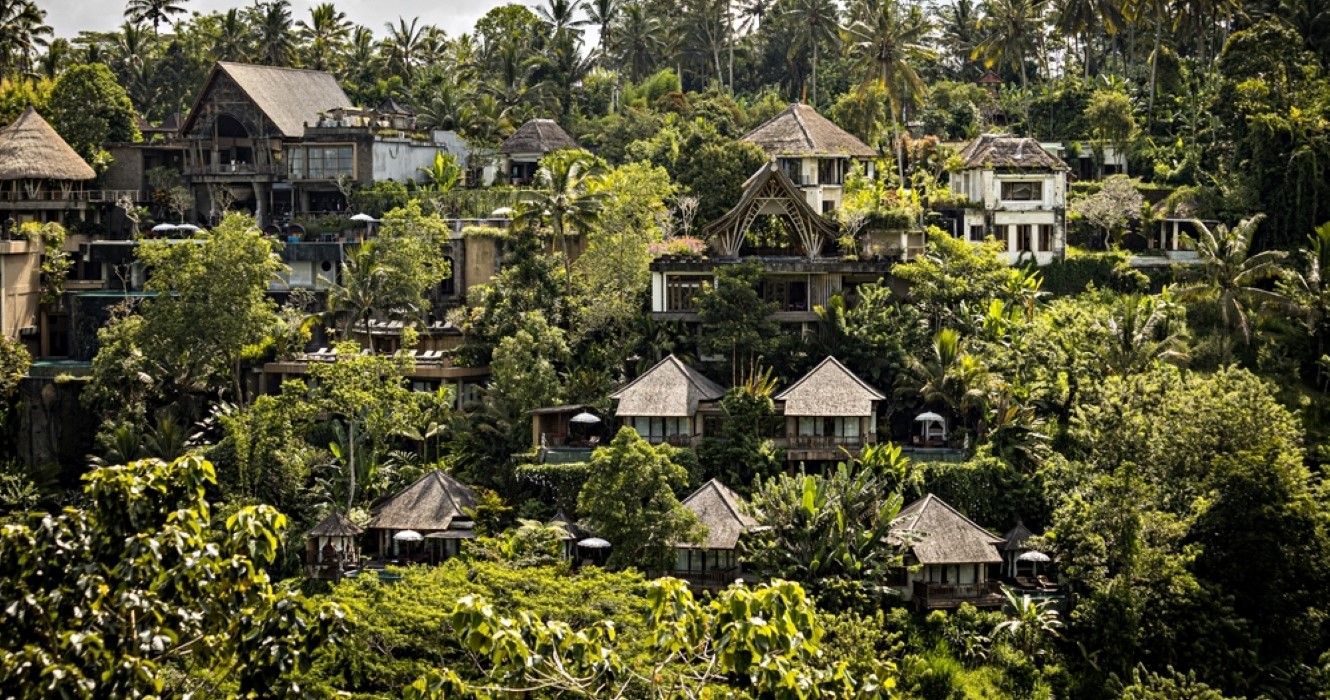 Traditional Balinese huts, hotel, guesthouse in Ubud area, Bali, Indonesia
Indonesia should be on everyone's travel bucket list. It is one of those countries surrounded by stunning beaches and charming cities that people should see before they die. Since Indonesia has so many incredible wonders for travelers to discover, there are many fantastic resorts located in the most beautiful parts of this country.
Indonesia is full of great adventures for solo travelers and is an excellent destination for anyone looking for luxury, convenience, seclusion, or adventure; there is a resort to suit everyone. Here are the 10 top-rated resorts in Indonesia that travelers should consider booking for their next trip.
RELATED: Tips, tricks, & advice for traveling solo to Bali
10

NIHI Sumba Resort

Nihi Sumba Resort is considered the Best of the Best by TripAdvisor Travelers' Choice of 2022. It is one of the highest rated resorts on this list for its impeccable service, state-of-the-art facilities, and unforgettable experiences every guest leaves with. In fact, Nihi Sumba Resort was featured in Travel & Leisure magazine as the number 1 hotel in the world for two years in a row! This resort is also a great place to start exploring snorkeling in Indonesia.
9

COMO Uma Ubud Resort

Como Uma Ubud Resort is located in central Bali and has all the best features that people expect from a resort. The resort is surrounded by plush vegetation and has a stunning outdoor pool/lounge area that is absolutely picture-perfect. Apart from the beauty of this resort, this place offers its guests free shuttle/taxi services, bike tours and spa treatments to make their trip even more memorable.
8

Tanah Gajah Resort

The Tanah Gaja Resort is considered the Best of the Best by TripAdvisor Travelers' Choice for 2022. This resort is fantastic! It has a large tennis court and impressive outdoor pool and offers guests bicycle rental as well. One of the most unforgettable experiences that guests talk about is the hot air balloon tour that gives them the opportunity to admire the beauty of Indonesia from above. This 5 star resort is also family friendly and is an excellent resort to book for your next trip to Indonesia.
7

Mandapa Resort

The Mandapa Resort is a very luxurious resort, and it is also a Ritz-Carlton Reserve. This is an excellent resort for travelers looking for exceptional service and luxurious facilities. This resort is a TripAdvisor Travelers' Choice for 2022 due to its impeccable service. Guests say this place is "simply in another league of its own" and that they had the "most amazing experience".
6

Alila Villas Uluwatu

Alila Villa Uluwatu is a stunning resort with a picturesque pool surrounded by a stunning view of the Indian Ocean. This resort has a beautiful beach nearby and offers guest services such as babysitting and airport transportation. Guests get to enjoy stunning ocean-view rooms and bask in the immeasurable beauty of Indonesia.
5

Amankila Resort

The Amankila Resort is on the coast of the Lombok Strait and has a fantastic infinity pool overlooking the beautiful water. This resort has a stunning, private beach which is great for travelers who demand exclusivity and like to spend the day on the beach. Guests can choose between staying in ocean-view or pool-view rooms depending on their personal preferences.

RELATED: Island Escape: These are the 10 Most Beautiful Beaches in Bali
4

COMO Uma Canggu Resort

Como Uma Canggu Resort is located on the south coast of Bali. It's a TripAdvisor Traveler's Choice for 2022 because of its incredible facilities, great value for money, and impeccable service. This luxurious resort offers its guests stunning ocean-view rooms that are highly rated by travelers from around the world.
3

The St Regis Bali Resort

The St. Regis Resort is an ideal place to stay for anyone planning a luxury trip to Bali. Guests have described this place as "best-in-class service in paradise" and "perfection in paradise." The resort is known for its impeccable service and impressive infrastructure.
2

Capella Ubud Resort

Capella Ubud Resort is considered the Best of the Best according to TripAdvisor Travelers' Choice 2022. This resort has excellent, luxurious facilities that are bound to make everyone's trip truly memorable and relaxing. This luxurious resort is hidden in the trees and creates a tranquil environment for anyone who gets the privilege to stay here.
1

Four Seasons Resort Bali

The Four Seasons Resort Bali is a TripAdvisor Traveler's Choice for 2022 as it is highly rated for its impeccable service and state-of-the-art facilities. This resort has been described as an architectural masterpiece in paradise. It is a great getaway for anyone who loves stunning architecture and luxurious resorts.