Explore Turkey by doing these ten amazing things to do in Bodrum, one of the country's most famous beach towns.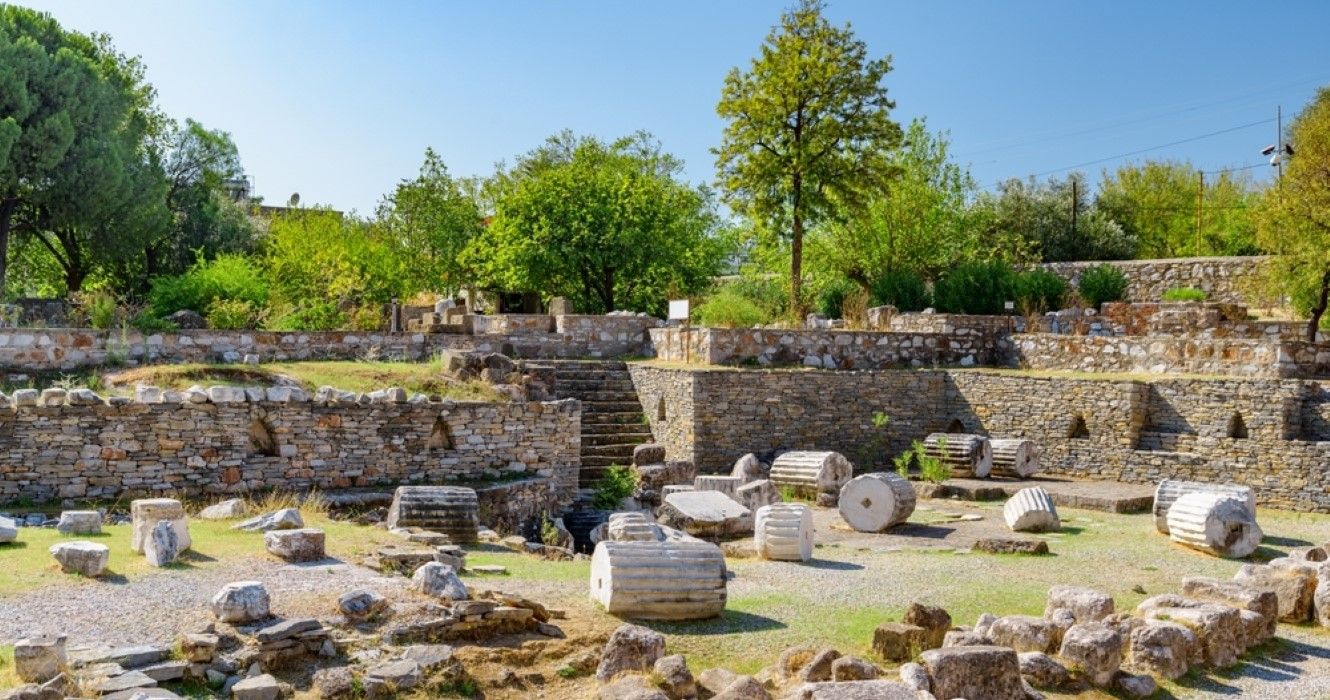 Tomb ruins at Halicarnassus, Bodrum, Turkey
Bodrum is a beach town in the Mugla province of southwestern Turkey. With white stone houses overlooking the Aegean Sea, clear blue water and delicious cuisine, it has a charm that everyone should experience. Bodrum is a major travel destination among Turkish locals and is the place to be for all the celebrities in the summer. It has a rich history and offers some of the best shopping, dining, bars and beaches. Here are ten amazing things to do while traveling in Bodrum, Turkey.
10

Tomb at Halicarnassus

Designed by the Greek architects Satyros and Pytheos of Prynae, the mausoleum at Halicarnassus was built between 353 and 350 BC. It was one of the Seven Wonders of the Ancient World, and Bodrum has the remains of what remains. Several earthquakes destroyed it from the 11th to the 15th century. Although only the foundation remains, seeing one of the seven wonders of Bodrum history and experiencing the historical significance is an experience of a lifetime.
9

Milta Bodrum Marina

Experience the elegance of Bodrum with a cruise to Milta Marina. This is the best place for those who want to take in the views while strolling along the boat-lined beaches of Bodrum's blue waters. It is close to many of Bodrum's luxury resorts and offers a fine dining and shopping strip for all ages.

Related: 10 Amazing Tours in Bodrum, Turkey
8

Zeki Muren Arts Museum

Zeki Muren is a Turkish singer and actor loved by Turkish people. His works mainly consist of classical and traditional Turkish music and this museum depicts the life of Zeki Murey. This is a wonderful place to visit if you want to better understand and immerse yourself in Turkish culture.
7

Bodrum Castle

With its rich history, travelers can find some amazing travel destinations in Turkey. Bodrum Castle is a must-see for anyone looking for 15th-century Crusader architecture. It is located on the Bodrum Peninsula in central Bodrum, and inside it, visitors will find the Museum of Underwater Archaeology. The museum houses collections from the Bronze Age and is displayed in 14 galleries.
6

Bodrum Bar Street

Bodrum, Turkey, is popular among locals for its beaches and nightlife. Bodrum Bar Street is a nickname for Kumhuriyet Street, which starts from Bodrum Castle and stretches along the coast with bars, clubs and entertainment. It has some of the most vibrant and busy nightlife spots and is home to famous Bodrum clubs such as Catamaran. This street is the perfect area for anyone who enjoys Bodrum's nightlife scene.
5

Bitage Beach

There are many reasons to book a trip to Turkey in summer, but its beaches are the most important reason. Bodrum, Turkey, has the most beautiful beaches with clear turquoise-blue water. Enjoy a day at Bitez Beach, where their sunbeds are provided and access to several eateries with food, snacks and drinks. Take a dip in the Aegean Sea and soak up the sun on one of Bodrum's most popular beaches.

Related: Visiting Turkey? Here are some first-timer-friendly places to stay
4

Mindos Gate

Turkey is an often overlooked city, and there are many reasons why Turkey is an underrated travel destination. One of the main attractions of the country is how deeply etched in history it is. It is home to many historical and archaeological sites, making it a once-in-a-lifetime experience for most travelers. The Mindos Gate in Bodrum was built in the 4th century BC and served as the entrance to the ancient city.
3

Bodrum Ancient Theater

This Greco-Roman theater is worth a visit while traveling in Bodrum, Turkey. It is an excellent example of a classical Greek theater and allows visitors to enter the world of ancient gladiators. The theater has a unique architectural structure and consists of three main areas: the stage, the audience and the orchestra.

Related: 20 Reasons to Plan a Trip to Turkey's Breathtaking Travertine Pools
2

Orak Island Boat Trip

An Orak Island boat trip allows travelers to visit one of the smaller islands near Bodrum, Turkey. This is a day-long trip, so plan to spend a full day boating to the island. Embrace the turquoise waters of the Aegean Sea with an Orak Land Boat Ride.

One of the surprising things when visiting Bodrum, Turkey is their opening hours. Shopping centers stay open much later than in the States. This midtown shopping center houses many luxury brands and is a great way to escape the heat of Bodrum and take a break from its beaches and marinas. Go shopping, visit a cinema and enjoy Turkish food courts.